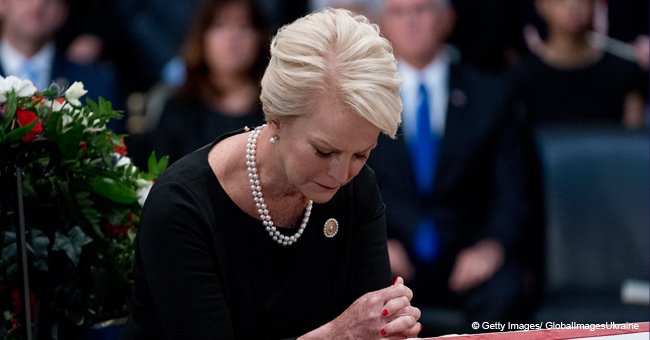 Cindy McCain cries bitterly on son's shoulder during a performance of husband's favorite songs
Cindy McCain, the late Senator John McCain's wife of 38 years, leaned gainst her son while opera singer Renee Fleming sang "Danny Boy."
His memorial service was held at the Washington National Cathedral on Sunday. "Danny Boy" was one of his favorite songs, and tells the story of a fallen war hero who knows he won't see his son again.
Read more on our Twitter account, @amomama_usa. A short video clip of the moving performance can be seen below.
"And if you come, when all the flowers are dying, and I am dead, as dead I well may be, please come and find the place where I am lying, and kneel and say an "Ave" there for me."
Senator McCain requested a month before his passing that the Irish ballad is performed at his funeral, according to People.
McCain lost the battle to brain cancer on August 25 at the age of 81, less than 24 hours after refusing any further treatment for the aggressive brain tumor.
The late senator and war hero was diagnosed with a glioblastoma thirteen months ago and underwent aggressive chemotherapy and radiation since then.
Brain cancer patients, on average, typically survive less than a year and a half after diagnosis and McCain was given a 3 to 14 percent chance of survival back in 2017.
McCain is survived by his wife Cindy, seven children including "The View" host Meghan McCain, as well his 106-year-old mother, Roberta McCain.
Meghan said in a statement earlier this week that her father raised her, taught her, corrected and comforted her throughout the years.
She said at the funeral service that she will always love her father and told the audience that he shaped her into the woman she is today. She added:
"You loved me, and you showed me what love must be. Your greatness is woven into my life. [...] It is woven into the life and liberty of the country you sacrificed so much to defend."
Please fill in your e-mail so we can share with you our top stories!