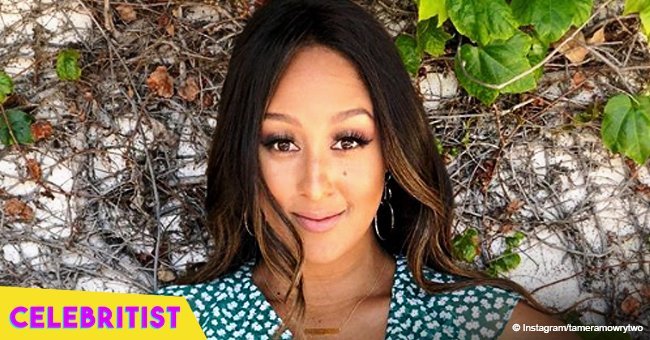 Tamera Mowry steals hearts with photo of daughter in cute dress, playing on the swing
Tamera Mowry youngest daughter, Ariah, is growing up to become a gorgeous and happy lady, and her mom couldn't be prouder. The 3-year-old looks stunning on a recent pic shared to Tamera's page, and fans can't deal with her cuteness.
Little Ariah is the sun on her parents' lives. The adorable girl is often pictured on her mom's Instagram page smiling, running and playing around alone or with her older brother, Aden. And in one of Tamera's recent pics, Ariah looks content while playing on the swings by herself.
In the adorable shot, Ariaha is rocking a short-sleeve white t-shirt with a grey jumper dress on top, white sandals and her hair braided in two sections. She's smiling brightly to the camera while holding on the swings' chains, proving that she was having a good time at the park.
"If I could describe Ariah in one word, it would be jovial. She is my little [sun]," Tamera captioned the pic. Fans of the "Sister, Sister" actress and "The Real" co-host took to her comment section to express their admiration for the little girl.
One user wrote "Shes just like her mom.... jovial and blessed," another added, "What a beautiful lil girl. Her smile is priceless," and a third one said, "Omg she is the cutest little sun-kissed caramel beauty!"
TAMERA'S REASONS TO NAME HER DAUGHTER "ARIAH TALEA"
In an interview with People, the 40-year-old star revealed the meaning behind her daughter's name. Tamera, who's married to Adam Housley, decided that after naming her first son Aden, she wanted to keep the tradition of starting her children's name with an A.
Before they got married, Tamera and Adam stumbled with a shop named Arraya. She revealed how she stopped in her tracks and told Adam she loved the name and it would definitely be her daughter's name in the future.
So, when her little girl was born, the decision was already made. The only difference with the name inspiration is that Tamera changed the spelling so that people wouldn't mispronounce it. As for Talea, Mowry revealed that it was a name she always loved and that was going to be used on a friend's book for a character inspired on her.
However, after deciding on the names, the couple figured out the meaning of both, and they couldn't be more pleased with them. Tamera said:
"It wasn't until after we had decided on Ariah Talea Housley that Adam and I learned the origin and meaning of both names … Both Hebrew names, Ariah means Lion of God and Talea means one who resembles the morning dew of Heaven. We couldn't have found names with a better meaning if we had tried."
Please fill in your e-mail so we can share with you our top stories!