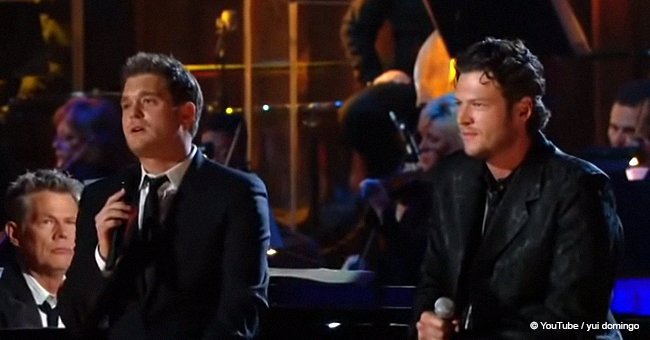 Michael Bublé surprises audience by bringing out Blake Shelton on stage for a duet
Ready to sing for David Foster during a special show, Michael Buble decided to offer an additional musical treat for the audience by inviting country star Blake Shelton onto the stage.
The video uploaded to YouTube showed Foster and Buble on the stage with the former artist taking on the mantle of the pianist as well.
The clip begins with Buble acting surprised while asking Foster, "Is he around?" It is not obvious to whom Buble is referring to at first. However, Foster suggests to him that "he" is indeed there.
Right then, from the other end of the stage, country star Blake Shelton walks out into the center of the stage. The crowd quickly erupts into cheers and cries as Buble pulls an extra chair for him.
Follow us on Twitter to learn more.
"Here [you] go, buddy," Buble says, pushing a chair his way, and then starts to sing one of his iconic songs, "Home," while Shelton takes a seat.
They share a laugh and Buble cues Shelton to sing his part of the son. Shelton then sings into the microphone with his raw, country voice, but not before confessing a little bit of love with Buble, saying "I miss you, you know."
The flawless performance then takes on as the entire room is filled with the magical aura of the two phenomenal singers. The crowd goes completely silent as if enthralled by the magical voice of the two country superstars.
Shelton might have surprised the crowd with his unexpected entry during this particular episode, but the star himself is no stranger to receiving big surprises as well right during the concert performances.
During his popular gig in Fresno, California, he was distracted by a special moment ongoing amid the crowd. Shelton saw a man proposing his girlfriend with a ring, which forced him to stop playing and witness the special moment.
Please fill in your e-mail so we can share with you our top stories!