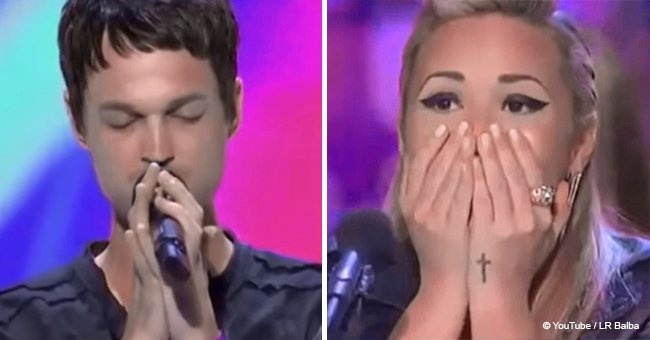 Contestant leaves judges stunned after brilliant performance of 'Hallelujah'
Jeff Gutt showed up in one of the episodes of the popular singing reality show, 'The X-Factor,' and impressed everyone with his soulful rendition of an iconic song.
A video of his performance uploaded to YouTube showed the singer walking out to the stage, unsure, hoping for nothing more than to show off his skills and get some publicity for his local singing career.
One of the major reasons for him being on the show was also his young son, who apparently had never heard his father sing. He also wanted to make his son proud.
When Gutt opens up about these things before the judges, they seem impressed. However, when they ask him about his choice of song, some of them are immediately skeptical.
Follow us on Twitter to learn more.
Gutt chose one of the most difficult as well as iconic songs that have been ever written – "Hallelujah" by Leonard Cohen.
But then Gutt actually started singing and immediately proved every doubter wrong. He hit every note with perfection and brought the audience up to their feet with his powerful voice.
At one moment in the video, his son is seen watching his father perform through a television screen backstage, which fulfilled Gutt's long-held desire of performing for the first time before his son.
Toward the end of the song, Gutt received a much-deserved standing ovation from the crowd. Many members of the audience were seen in tears including one of the judges, Brittany Spears.
Gutt received encouraging comments from all the judges. But perhaps the most memorable of comments came from Simon Cowell, who is believed to have the strictest of personalities.
Cowell told Gutt, "I've heard that song a lot. I've sat in this chair a long time, and it was one of the most brilliant auditions I have heard."
Just like Gutt, many contestants have mesmerized the judges as well as the audiences alike with their amazing performances in "The X-Factor" over the years.
Another stunning performance came from a 20-year-old girl, who worked at McDonald's and always had a passion for singing and music.
Please fill in your e-mail so we can share with you our top stories!