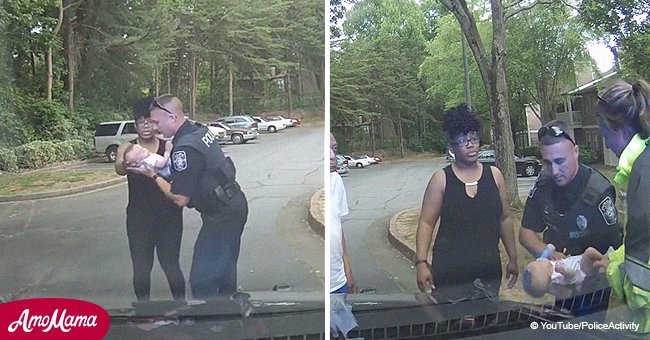 Dash cam footage captured incredible moment officer saved a choking baby's life

Marietta Police Officer Nick St. Onge kept calm under the pressure of trying to save an infant's life in front of her mother.
On May 15, 2018, St. Onge responded to a dispatch about a choking infant. He was first on the scene and captured the entire nerve-wracking scenario on video which was later uploaded to YouTube. The video is found below.
A father himself, St. Onge said he right away "began reviewing in [his] mind what [he] would do when [he] got on scene." according to Ten Two News. St. Onge had received military training as a five-year department veteran in addition to that with the police force.
Follow us on Twitter for more @amomama_usa.
When he arrived, St. Onge recalled that "everything happened exactly the way I imagined it."
He gently took the baby, named Zeona, from her distressed relative. He then bends down on a knee and starts rendering aid to the child.
He consistently applied chest compressions and back-patting to the one and a half-month-old. Zeona's relative mother paced back and forth but also remained composed. She called out the child's name a few times.
Time rolled on, but St. Onge persisted. As soon as two medics reached the scene, Zeona let out a small cry and appeared to be okay.
St. Onge explained, "The training paid off and worked well because I trusted it."
The medics asked the family member some questions about Zeona relating to her medical history but they are reassured that she had no incidents in the past and was only drinking her bottle before she started choking.
St. Onge said:
"I am a father and can't imagine what it would be like to have to give my child to someone else to provide emergency care. It gives me a new appreciation for the training we as police officers receive. He continued, "We prepared for moments when people's worlds turn into chaos. We train so that when they need help, they can call on us and trust that we will be able to help them."
St. Onge is a helper at heart, and always knew he "wanted to do the job in the civilian world." He works evening shifts which is when the department receives a high level of calls.
He reminded other officers to "trust your training" as he was taught.
St. Onge learned that "a reflux issue" caused Zeona's choking. He recalled that her mother and grandmother are "remarkable people who have an amazing amount of love for baby Zeona."
The officer is most thankful that he was "in the right place at the right time" because "it's always been about serving."
Another life-saving incident back in May was recorded as well. Jeremie Nix noticed when a white sedan parked near an intersection in Ocala Florida.
Nechole Crowell flashed her lights to flag down the deputy. Crowell was upset as her baby, Kingston, had stopped breathing inside the car.
Nix jumped out and took Kingston. He kneeled down on the sidewalk and started administering CPR and other appropriate life-saving techniques. When this wasn't enough, Nix took off with the three-month-old to Ocala Regional Medical Center.
Thanks to him, baby Kingston made a full recovery.
Later in June, another heroic officer rescued a toddler that was left in a hot car overnight. It was Seminole County Deputy Bill Dunn who answered the call that a little girl had been kidnapped along with a vehicle stolen.
When Dunn arrived, he said the temperature was "probably 80 degrees outside, to where you have 109, 110 degrees steam just rushing out at you." He turned on the AC and noticed her eyes fluttering.
The video showed Dunn running towards his car holding the 3-year-old securely and keeping her neck upright. He rushed her off to the hospital where she made a full recovery.
Her mother was arrested and charged with child neglect and bodily harm.
Please fill in your e-mail so we can share with you our top stories!