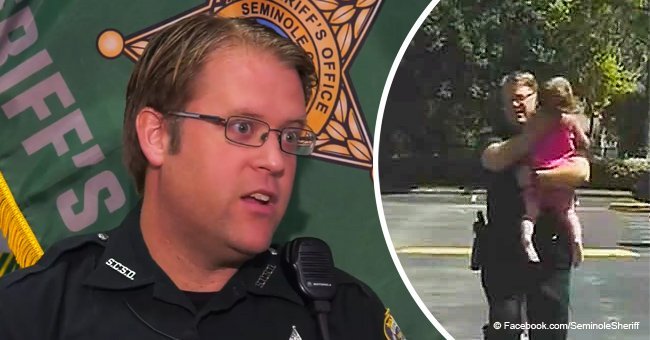 Deputy caught on camera saving toddler who was left in a hot car overnight

On Father's Day June 17, Seminole County Deputy Bill Dunn became a hero when he saved a little girl's life. She was left behind in the heat overnight in a car.
In a recently released clip, the deputy had to think fast when he got her out of the vehicle. He rushed her to his police car and drove straight to the hospital and hoped for the best.
Two months ago, someone called the police to the Vista Haven Apartments. They reported that a little girl was inside a possibly stolen vehicle with its windows rolled up.
When Florida, Seminole County Deputy Bill Dunn arrived he saw the little girl's eyelashes fluttering. He saved the 3-year-old toddler at around 11:20 a.m.
For more on this story go to our Twitter account @amomama_usa. She had been left in the hot vehicle for more than 12 hours.
The temperature inside the car was significantly hotter than the temperature outside.
"It was probably 80 degrees (26 Celsius) outside, to where you have 109, 110 degrees (43 Celsius) steam just rushing out at you … when I opened that car door," recalled Dunn during an interview.
Footage showed the deputy running to his car while holding the toddler's weakened body in one hand and keeping her head up another. Dunn was really worried when he couldn't feel a pulse.
When he got to his car he turned on the air conditioning.
"Once the cold air hit her, that's when I started noticing her eyes kind of fluttering," the deputy said.
With no ambulances nearby, Dunn turned on his sirens and rushed the little girl to the hospital while trying to keep her conscious.
In the video, he could be heard saying to her, "It's OK, baby. Talk to me! You're OK."
Her heartbeat was an important sign to him that there was hope for her recovery. He remembered one thing distinctively, "was my hand on her chest and feeling her heart racing."
When he arrived at the trauma room, the medical team was ready and waiting to receive her. In the clip, Dunn can be seen returning to his vehicle from the body camera footage.
He slumps over the bonnet from fatigue. Casey Dyan Keller, 33, was the little girl's mother who had taken three of her children to the liquor store and only returned to her apartment at 11:15 p.m. with two.
The next morning, she called 911 and claimed that someone had stolen her car with her child inside it. She was arrested and charged with child neglect and bodily harm.
On June 21, the Seminole County Sheriff's Office posted a Facebook photo of Dunn reuniting with the toddler who made a full recovery.
Please fill in your e-mail so we can share with you our top stories!