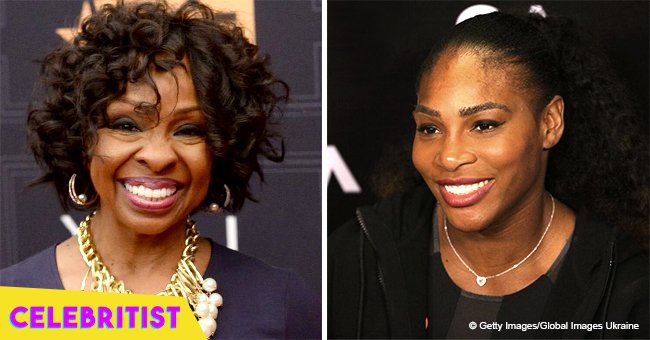 Gladys Knight is all smiles in pic with Serena Williams after clearing up rumors about her health

Gladys Knight celebrates Serena Williams "wins" just days after she clarified details about her illness.
Serena Williams is currently seeking her 7th US Open singles title and record-breaking 24th Grand Slam final, and Gladys Knight is there to cheer her on. Last week, the singer who recently clarified misconceptions about her health shared a photo with the tennis legend while congratulating her for her successes.
Serena has had a great year. She welcomed her first child, daughter, Olympia who just turned one this month. She married her daughter's father, Alexis Ohanian. She survived a life-threatening childbirth, and she's making an impressive comeback in tennis after taking a months-long hiatus due to motherhood.
Fans have been admiring Serena for her strength and dedication, both to her family and her sport. When she recently lost at Wimbledon, she still considered it a win, representing all mothers who strive to strike a balance between their families and their careers.
Gladys recognizes Serena's triumphs amidst the disappointments and she recently paid tribute to that when she showed her support for the tennis mom during the US Open. Looking healthy, contrary to what others previously believed, Gladys stood alongside her idol and penned a short congratulatory note in her caption.
"Congrats on all of your wins, on and off of the court!"
Gladys had her own share of triumphs and disappointments in the past and she is a survivor. She recently opened up about battling cancer after the death of music legend Aretha Franklin. Gladys revealed she suffered the same illness the singer died of but was forced to clarify later that though she too had cancer, hers was of the breast while Aretha's was of the pancreas. She also confirmed she's now cancer-free and very healthy.
Gladys was one of many stars who paid tribute to Aretha during a memorial service for her. The singer died on August 16 after years of battling her illness. Gladys revealed the last time she spoke to Aretha, they discovered they both shared the same illness. And while the singer succumbed to her disease, Gladys is glad her suffering is over.
Please fill in your e-mail so we can share with you our top stories!