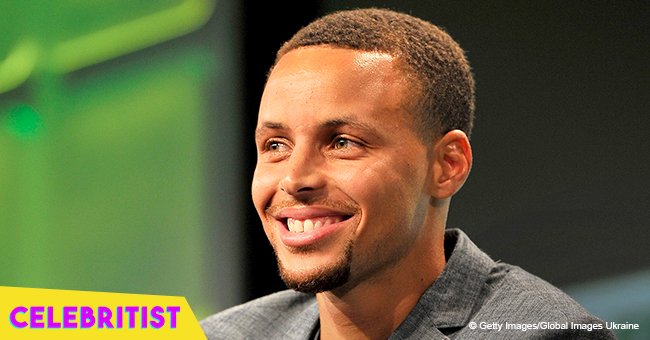 Stephen Curry's sister stuns in mermaid wedding dress in picture with her husband
Sydel Curry shares a glimpse of her beautiful wedding as she pays tribute to her "soul mate" in a post she recently shared. The new wife looked stunning in a mermaid wedding dress in the romantic photo she shared.
After months of preparation for her wedding day, Stephen Curry's sister Sydel Curry saw her efforts pay off as she commemorated the special occasion recently.
September 1 was the day Sydel walked down the aisle to say "I do" to the man she refers to as her "soul mate." She proudly announced their engagement in November, showing off the ring he gave her as she leaned on his shoulder for a memorable pic. Sydel thanked Jesus for blessing her with the "man of my dreams" as she indicated in her caption and added, "I couldn't be more happy." She also exclaimed when she realized she had the perfect hashtag for their wedding day - #HappyLeeEverAfter.
ROAD TO FOREVER
Damion Lee was her fiancé then who swept her off her feet after going on four dates in five days with her five years ago. Sydel knew from the moment she met Damien that he was the one. She told Essence this much in June.
"He was just so different in a sense that I couldn't read him. He was such a gentleman on our first date. Wouldn't let me walk close to the street when we were walking together. He was just such so sweet. So from day one of us going on our date I knew I wanted to be with him."
It took six months of them dating before Damien officially asked Sydel to be his girlfriend and almost four years later to pop the question. Sydel was caught off-guard having been waiting for the moment for quite some time.
"The engagement definitely caught me as a surprise [because] I thought that it would take him forever to ask me to marry him because it felt like it took him forever to ask me to be his girlfriend. But we had talked about it. We both told each other that we loved each other and wanted to get married eventually when the time came. And so the fact that we are engaged, I'm not surprised because I knew it would get there eventually."
WEDDING DAY
The day finally came for Sydel to marry Damien and it was even more magical than she'd ever imagined. In a post from the happy occasion, Sydel described how she felt weeks leading to their wedding and how at peace she was on the actual day.
"September 1, 2018- you were a dream. From the moment I woke up, I just felt at peace. With expectations of having feelings of nervousness, anxiousness, etc. I was just at peace. I've honestly never felt a sense of calm in such an important part of life. And that is what @dami0nlee gives me."
Sydel also revealed her lack of words to described how she felt as she looked forward to spending forever with Damien.
"Knowing that at 5pm I would walk down the aisle and say yes to forever with the greatest gift that God has given me is something that even right now is hard for me to explain. I love this man more than words can tell but now i get to live my life showing it and telling him every day."
With excitement, she added,
"I have tons of people to thank but right now, I just need to relish in the fact that I have found my soul mate, we are now one, and I am Mrs. Lee!!!!!"
The long caption accompanied a photo of Sydel dressed in her mermaid-inspired wedding gown engaging in her first dance with her husband. They stood at the center of a beautifully decorated ballroom with white flowers hanging from the ceiling along with giant golden chandeliers. The walls of the room were draped with white curtains and their multi-level wedding cake stood elegantly in the background.
In the photo, it appeared like Sydel and Damien were the only people in the room, no doubt what they were feeling at that exact moment. The photo is proof of their love for each other, as Damien leaned on his wife's shoulder while sharing a hug with her.
Apart from her dreamy wedding, Sydel recently rejoiced over the dreamy wedding gift her brothers Stephen and Seth Curry gave her. They surprised her by naming her university's locker room after her. Sydel played for Elon University's volleyball team and as a tribute to her, her brothers donated to the institution to have them name their locker room the "Sydel Curry Women's Volleyball Locker Room." Touched by the gesture, Sydel was in tears as she shared a post about it and gushed about how sweet her brothers were. With the husband of his dreams and brothers as thoughtful as hers, Sydel is destined for a pretty charmed life.
Please fill in your e-mail so we can share with you our top stories!