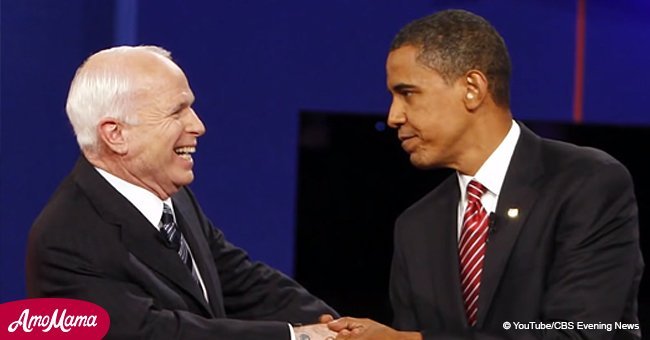 Barack Obama gives a touching farewell to John McCain at Memorial Service
Former President Barack Obama admitted that Senator John McCain made him a "better president" during his farewell speech at the late senator's memorial service.
On September 1, 2018, Obama gave a heartfelt tribute for McCain during his memorial service at the Washington National Cathedral.
The former president said his last goodbye to his former competitor and dear friend.
McCain passed away on August 25 at the age of 81 after battling glioblastoma, which is a severe type of brain cancer.
Follow us on Twitter at AmoMama USA for more details and updates.
Obama and McCain were known to be competitors during the presidential election in 2008.
During his speech, the African-American politician poked fun about having to speak at McCain's service.
He said, "What better way to get a last laugh than to get George and I to say nice things about him to a national audience?"
Former President George W. Bush also paid respects and said a touching tribute for McCain at the service.
Later on, Obama shared that McCain "made us better presidents. Just as he made the Senate better. Just as he made this country better."
He expressed his admiration and respect for McCain even though the late Arizona senator used to call him at least once a day to tell Obama that he was "screwing up."
Obama also mentioned the moment McCain defended him when Obama was heavily criticized for his patriotism during the presidential campaign in 2008, noting that even though McCain was a conservative fellow, he understood that "some principles transcend politics."
"I was grateful, but I wasn't surprised. I never saw John treat anyone differently because of their race, religion or gender. And I'm certain in those moments that were referred to in the campaign, he saw himself as defending America's character, not just mine."
Barack Obama, CBS News, September 1, 2018
In addition, Obama also shared that he used to have one-on-one meetings with McCain at the White House during his regime.
He explained that those moments were "real" and "deep" most of the time, and he admitted that they enjoyed those times when they were away from the public eye.
"We never doubted the other man's sincerity, or the other man's patriotism, or that when all was said and done, we were on the same team. We never doubted we were on the same team," said Obama.
In other news, following Queen of Soul Aretha Franklin's death, Obama also spoke about her talent in her honor.
Please fill in your e-mail so we can share with you our top stories!