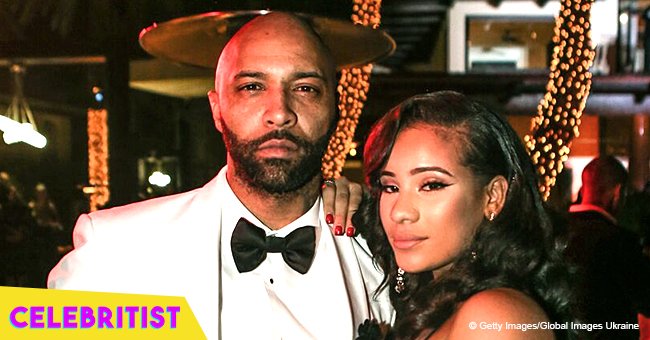 Joe Budden & Cyn Santana's baby son melts hearts with his hair in a little bun in pic

Joe Budden is a proud father in his latest post where his two sons bond at home. He reveals how precious they are to him in the heartwarming caption he attached to the photo.
Life has been good to Joe Budden these days. He has a successful podcast, a brand new talk show, he's returning to "Love & Hip Hop: New York" and he just welcomed a baby to his happy family. But among all the blessings he's thankful for, what really matters most to the rapper are his two children as evident in his recent post.
Joe's kids were born more than a decade apart. It was unfortunate that his older son, Trey, 16, was caught between Joe and Trey's mom's legal battle over Joe's visitation that the boy grew up without seeing much of his father. But things changed and Joe and his ex are in a better place right now giving Joe and Trey a chance to make up for time they've lost. Trey now sees his father every other weekend and gets to hang out with his younger brother, Lexington.
Joe and his girlfriend Cyn Santana welcomed Lexington in December. The couple announced their little boy's arrival on social media by sharing precious photos from his birthday. Since their son's birth, Joe has been sharing glimpses of the young boy's life, and that includes his special moments with his older brother, Trey.
Joe recently shared a sweet snap of his two sons who appeared to be bonding at home. Little Lexington, dressed in a striped onesie and with his hair set in a bun sat on the floor while his big brother laid on his tummy beside him with his arms circling him. Trey fidgeted with his cell phone as he tended to his brother who looked content just sitting beside him.
Their proud father who captured the moment shared it on his Instagram and reflected on how precious they were and wrote what he truly felt in his caption.
"All that really matters."
Joe never runs out of special moments of his children to share to his followers on social media. Last month, he posted a video of Lexington trying to wake his mother to the delight of those who viewed it. The morning clip revealed how persistent Lexington was as he touched his mother's eyes and tried to pry it open when she wouldn't budge. Joe greeted his followers in his caption with a "good morning" but excluded his wife who was evidently deep in sleep. She must have been up the whole night tending to their son and was making up for lost sleep.
Joe and Cyn met on the show "Love and Hip Hop: New York." They'd been together for a year before they announced their pregnancy in August 2017. The couple left their show a few years back but are rumored to be returning this year. They were spotted filming scenes for the show which will now focus on their life as parents in their return.
Please fill in your e-mail so we can share with you our top stories!