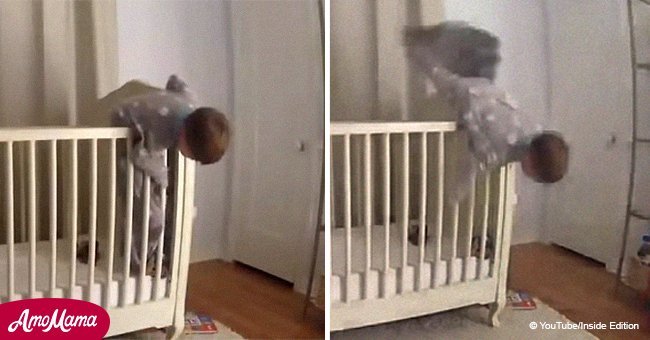 Incredible moment father catches toddler just before he hits the ground
Little Noah was supposed to land head-first on the ground after falling out of his crib, but his father rushed in just in time to catch him.
Nicholas Lynch from Los Angeles received praises from social media users after the video of him saving his child became viral on the internet. He was named a "Super Dad" for his fast reflexes to save his son from what would have been a tragic incident.
The incredible moment was recorded on the baby cam installed inside Noah's room.
As revealed by Inside Edition, the two-year-old child was trying to get out of his crib when he almost fell head-first towards the floor.
Follow us on Twitter at AmoMama USA for more viral stories and videos.
On the video, Lynch rushed out of nowhere and dived to save his baby boy just in time.
Speaking with Inside Edition, Lynch said, "I've never made a rescue like that before and honestly, I don't know if I ever wanna make another one."
He continued, "I felt that it was pretty close when I caught him. I mean, I felt him maybe inches away from the floor. But after reviewing the video, it was way closer than we thought."
As shown on the baby cam, Noah appeared to have woken up in his dark room and attempted to get out.
He was sleepy-eyed and held on to his blanket and stood on the corner of the crib, about to climb out.
Lynch had seen that his son was awake and went inside the room to switch the light on. He stepped into the room just in time to see his son falling out of the crib.
It was almost a mere second before Noah could have hit his head on the floor when Lynch grabbed him by the legs.
He then scooped him up, and the father and son shared a hug afterward. Lynch was relieved that nothing terrible happened and Noah seemed to feel safe in his father's arms.
In other news, another family almost experienced a tragic accident. Luckily, the mother was able to rescue her two children just in time before the electric car they were riding in exploded into flames.
Please fill in your e-mail so we can share with you our top stories!