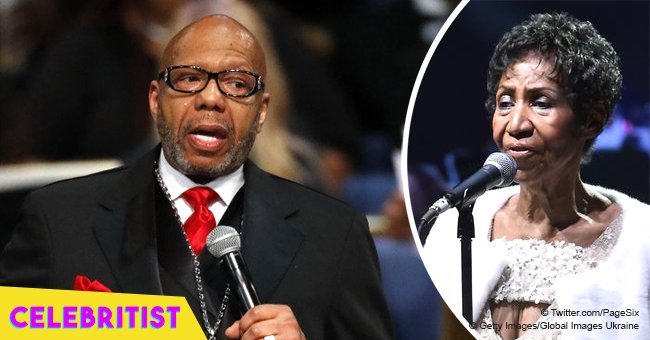 Aretha Franklin's family slams pastor's eulogy as 'offensive' and 'distasteful'

Days after the late Aretha Franklin was laid to rest, another clergyman has come under fire for his actions during her funeral service. The Reverend is being accused of pushing "his negative agenda" instead of eulogizing the late icon.
Rev. Jasper Williams Jr. was one of the pastors who gave eulogies at the funeral service of the late Queen of Soul. Williams is said to have been chosen because he has eulogized other members of the Franklin family.
However, when he took the podium at the Greater Grace Temple in Detroit last Friday, Aretha's family was displeased. The legend's nephew, Vaughn Franklin told The Associated Press that they found his eulogy "offensive and distasteful."
As reported by Reuters, the family claim Williams exploited the "platform to push his negative agenda," much of which the Franklin family does not approve.
"We found the comments to be offensive and distasteful. Rev. Jasper Williams spent more than 50 minutes speaking and at no time did he properly eulogize her."
The Reverend at one point asserted that black lives would not matter "until black people start respecting black lives and stop killing ourselves." He also maintained that single black mothers could not singlehandedly raise black boys to become men. Many felt that the last statement was an insult to Aretha who was a single mother to her four boys.
At a press conference on Sunday, Williams justified his remarks, implying that his eulogy was also directed at interrogating social issues and uplifting the black community:
"Here's the root of what I've been talking about: In order to change America, we must change black America's culture."
On Monday evening, the Reverend's spokesman said in a statement that Williams respects the family's opinion and that he's sorry they feel that way.
Williams was not the only pastor to receive backlash for his actions at the star-studded funeral service. The officiating minister, Bishop Charles H. Ellis, was dragged mercilessly after he was filmed groping 25-year-old pop star, Ariana Grande. He also likened her name to an item on the Taco Bell Menu.
The Bishop eventually apologized, saying:
"It would never be my intention to touch any woman's breast. ... I don't know I guess I put my arm around her. Maybe I crossed the border, maybe I was too friendly or familiar but again, I apologize. …I personally and sincerely apologize to Ariana and to her fans and to the whole Hispanic community."
Aretha was finally laid to rest at the Woodland Cemetery after an eight-hour ceremony that was graced by celebrities, civil rights leaders, and political figures like the former president Bill Clinton.
Please fill in your e-mail so we can share with you our top stories!