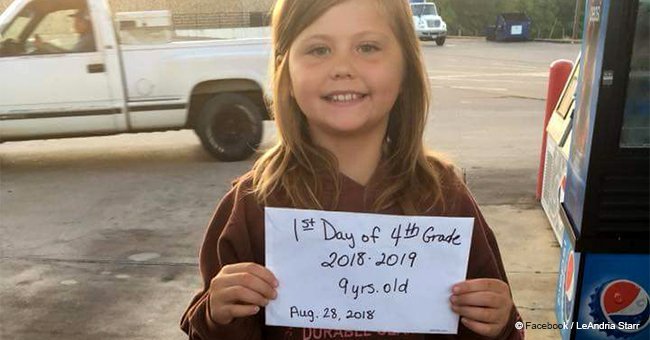 9-year-old girl tragically died minutes after taking a picture on her first day of school
Nine-year-old Payton Crustner flashed a big smile on her photo to celebrate her first day of school as a fourth grader right before she tragically passed away in a two-vehicle crash.
It had only been about ten minutes after taking the photo when Payton was killed on August 28, 2018, in East Texas. She was supposedly on her way to school.
Her older brother, a 16-year-old, was also in the car with her. He was immediately taken to the hospital, where he was said to be in critical condition.
Two more people were inside the car. The driver, 32-year-old Miranda Clark, and a three-year-old passenger at the backseat. Reports revealed they had minor injuries and had already been released from the hospital.
Follow us on Twitter at AmoMama USA for more details and updates.
THE ACCIDENT
East Texas Matters released a preliminary crash report revealing that the incident happened around seven in the morning.
Clark's 2017 Nissan Sentra was smashed by a pickup truck driven by an 18-year-old named Marcus Dukes.
Reports showed that Clark attempted to avoid Dukes by veering to the left but failed. The car spun out of control after the crash.
At the time, Clark was wearing her seatbelt, while Payton only had the bottom part of her seatbelt on in the backseat.
She flew right out of the car and landed on the roadway. The impact resulted in her death. Payton was declared dead right then and there.
As for her older brother, he was seated on the front seat and didn't have any seatbelt on. According to reports, the three-year-old was not buckled in as well.
THE AFTERMATH
Payton's 16-year-old brother was taken to Christus Trinity Mother Francis-Tyler. His family said on August 29 that he was still in critical condition.
Dukes was also taken to the hospital but was sent home afterward. No charges had been filed to any of both parties.
Following the incident, Payton's mother's co-worker set up a Facebook fundraiser to help with the medical expenses and Payton's funeral costs.
In other news, another child also died in a tragic accident after a bouncing castle she was playing in exploded.
Please fill in your e-mail so we can share with you our top stories!