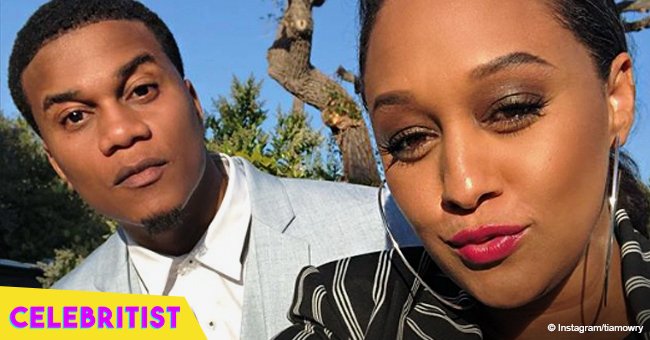 Tia Mowry steals hearts with picture of husband Cory Hardrict cuddling their baby daughter

Tia Mowry made sure to share an adorable moment between her husband Cory Hardrict and their daughter Cairo, saying it is important to show photos such as the ones she took.
While Tia and her daughter Cairo have a lot of photos of the two of them spending time together, we rarely get to see the little girl with her daddy. That is why when the proud mom caught the father-and-daughter duo together, she made sure to snap some photos of it.
Ever since Cairo was born, she's already loved being outdoors. Her parents have been taking her to their backyard to get some vitamin D, and it's always with her daddy that she gets to do this. Recently, they were back at it again, with Cory giving her little one some cuddles as they soaked up the sun.
Hardrict dressed comfortably in a pair of jeans, a cream muscle tee, a black beanie, and lace-up shoes. Meanwhile, baby girl Hardrict was dressed in a cute printed onesie and a bib.
"It's important to show these images. A daddy loving on his daughter. You feel me? We love you @coryhardrict"
While Cairo was born in May, it took Tia two months before she revealed her daughter's name or her face to the world. This was in hopes of getting privacy for their family before they had to share her with the world. Although they didn't announce their daughter's name when she was born, they did say that she was to have the initials "C.T.H" just like their 7-year-old son Cree Taylor Hardrict.
"Feeling grateful and blessed as we welcome our little baby girl into the world! Born May 5th at 10:29 am at 6 pounds and 4 Oz 19.8 inches. We are in heaven."
Since they've announced Cairo Tiahna's name, she has been appearing all over her parents' Instagram pages, showing her off with different members of their family on numerous occasions.
The Hardricts announced their daughter's arrival on May 6, sharing a photo of the doting mother and the newborn with her birth stats. Born 6 pounds and 4 ounces and 19.8 inches long, Cairo seems to be growing up to be a healthy and happy baby thanks to the hands-on love and care of her parents and older brother Cree.
Please fill in your e-mail so we can share with you our top stories!