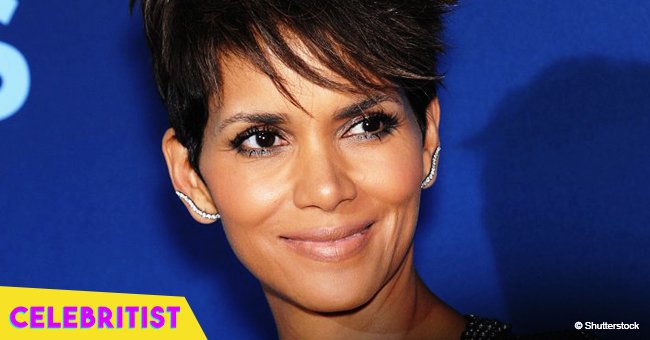 Halle Berry's daughter rocks cute patterned swimsuit and large sunhat in recent picture

Halle Berry rarely shows off her children on social media, but when she does, her photos look like pure art. She recently shared a photo of her daughter rocking a chic patterned swimsuit and a large sunhat which covered her face.
Halle and her children adore the water, and so they made sure to make good use of their labor day weekend by going swimming. Before that, however, the mother-and-daughter duo made sure to have a mini photoshoot with one another first, and it seems Berry's talent is not only acting.
It seems she also quite skillful when it comes to taking photos, as she captured her daughter perfectly in a perfect portrait shot. Although her daughter's face wasn't seen, the photo's composition made it look like an award-winning piece.
"I know a girl, she puts the color in my world. #MomLife#LaborDayWeekend"
Recently, Halle and Nahla were seen sporting matching gray summer dresses while out shopping in Ikea, taking time off her busy schedule to buy some home goods. The actress sported a long flowy gray dress which showed off her cleavage, and she complemented her laid-back look with a messy bun, aviator sunglasses, a brown fringe bag, and furry open-toed slippers.
Meanwhile, her adorable daughter Nahla walked alongside her wearing a matching flowy gray dress, which had an image of a zebra dressed as a unicorn printed on it. The 11-year-old also chose to step out comfortably, wearing a pair of white sandals and a messy bun. Like her mom, she also decided to wear pink-rimmed glasses to protect her from the scalding sun.
Berry shares her daughter with ex-boyfriend Gabriel Aubrey, whom she dated for five long years. They separated in 2010, two years after they welcomed their daughter. The pair then underwent a messy custody battle after the actress expressed her desire of moving to France to live with her then-boyfriend Olivier Martinez. After a physical altercation between Gabriel and Olivier and filing restraining orders on both ends, they eventually agreed on a proper arrangement in 2012.
Halle eventually married Olivier, whom she shares son Maceo with. However, after three years of marriage, they got a divorce in December 2016.
Please fill in your e-mail so we can share with you our top stories!