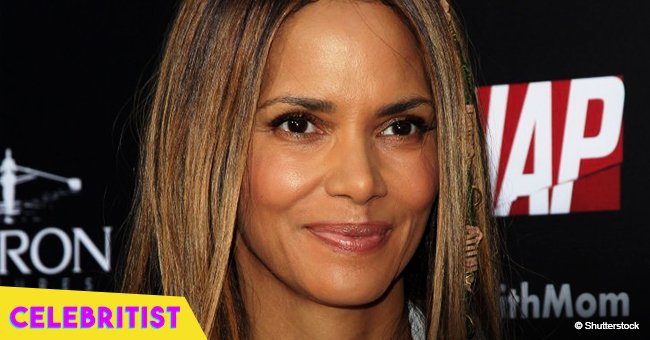 Halle Berry and daughter Nahla turn heads in matching gray summer dresses
Halle Berry and her daughter Nahla caused quite a stir recently when they headed out to do some errands in matching gray summer dresses.
Halle and her prodigy Nahla made the world their runway recently when they stepped out looking fresh in matching gray dresses. After a relaxing trip to the beautiful island of Bora Bora with her daughter and Maceo, her 4-year-old son, the Berry family is back to regular programming now that they're home in Los Angeles.
Busy trying to split her time among fitness routines, spending time with her children, and working on upcoming movie projects like "John Wick 3: Parabellum", Berry has been doing quite a good job balancing between the three. She was even recently able to slip in a quick getaway with her two children, where Halle shared her son's face on social media. This photo marks the first time she shared a picture of her son Maceo on social media since she gave birth to him.
Now that they are back to the hustle and bustle life, the actress brought along her daughter Nahla to IKEA last weekend, taking time off of her busy schedule to buy some goods. She sported a long flowy gray dress that highlighted her cleavage and complimented her laid-back look with a brown fringe bag and furry open-toed slippers. Her hair was tied in a messy bun, and she kept her anonymity with some aviator glasses.
Adorable Nahla walked alongside her mom sporting a matching flowy gray dress which had an image of a zebra dressed as a unicorn printed on it. The 11-year-old also chose to go for a comfy pair of white sandals, and a messy bun. On her eyes, she wore pink-rimmed glasses that protected her from the scalding sun.
The lovely mother-and-daughter duo was spotted heading out into the retail giant's parking lot, carrying the iconic blue bag of the store.
Berry shares her daughter with ex-boyfriend Gabriel Aubrey, whom she dated for five long years. They separated in 2010, two years after they welcomed their daughter. The pair then underwent a messy custody battle after the actress expressed her desire of moving to France to live with her then-boyfriend Olivier Martinez. After a physical altercation between Gabriel and Olivier and filing restraining orders on both ends, they eventually agreed on a proper arrangement in 2012.
Halle eventually married Olivier, whom she shares son Maceo with. However, after three years of marriage, they got a divorce in December 2016.
While she adores her children, the "Catwoman" actress has been quite private about them on social media. When her children were younger, fans would rarely get to see glimpses of them on the actress' social media account. In a recent interview with Extra TV, she revealed, for the first time, the reason why she started to become more open about sharing more about her children with the rest of the world saying:
"I really don't like to show my kids very much, but I do realize, my people are, like, solid for me and me for them and I feel like I want to include them. But it's a fine line because I don't want to exploit my children … I want to protect my children."
Like any other celebrity parent, there are quite some risks that come with sharing photos of their private lives online. As for Halle, she is trying to strike a balance between sharing their experiences with fans and protecting her children from any form of exploitation or harm. For now, she seems to be doing an entirely good job handling this.
Please fill in your e-mail so we can share with you our top stories!