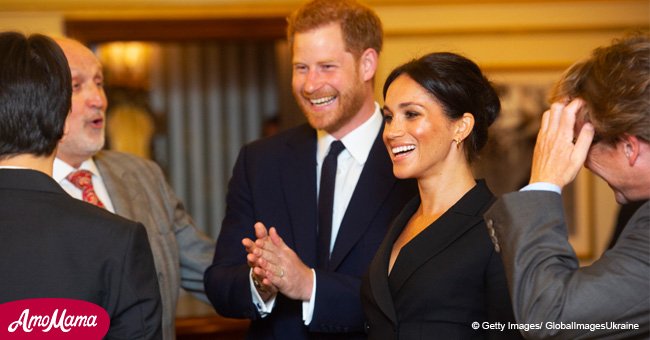 Meghan Markle received a romantic gift right before announcing her relationship with Harry
Prince Harry's sweet romantic gift to Meghan when they were still dating
Before the world knew about the love affair between Prince Harry and a Hollywood actress called Meghan Markle, the Royal walked into an art gallery and purchased a very special gift, reported Express on the 2nd of September 2018.
The Prince browsed through the exhibits at Walton Fine Arts gallery in London in October 2016, a few days before his relationship with his future wife became public.
He said he was looking for something for "an important person" and his choice of theme was definitely romantic.
A romantic painting that says it all
So what did Prince Harry buy? His choice fell on a painting by artist Van Donna entitled "Everybody Needs Somebody to Love."
The painting depicts a stylised couple in black and white walking and holding hands. The painting is a diptych and the caption on the side reads:"'Everybody Needs Somebody to Love".
Read more about the British Royals on our Twitter account @amomama_usa.
A rising young artist coveted by all
Van Donna, 32, is a rising British-born artist whose work is trending on the hot London art-scene. Van Donna's work currently sells from between $300 to $700 a piece.
The artist is strongly influenced by the Pop Art movement and the main theme of the works seems to be popular culture and romance.
The most-watched couple in the world
The Duke and Duchess of Sussex have since then become the darlings of the world press, as the newlywed Royals, everyone loves to watch after their wedding on the 19th of May 2018.
Duchess Meghan is considered one of the most elegant and best-dressed women in the world, and her fashion style is often compared to the mythical Audrey Hepburn's.
If you are a fan of the Duchess of Sussex read the following articles.
Meghan Markle's dress for nephew's special christening was called 'drab'
Here's why Prince Harry 'avoids' holding Meghan Markle's hand
Meghan Markle and Prince Harry reach new level in relationship by expanding family
Please fill in your e-mail so we can share with you our top stories!