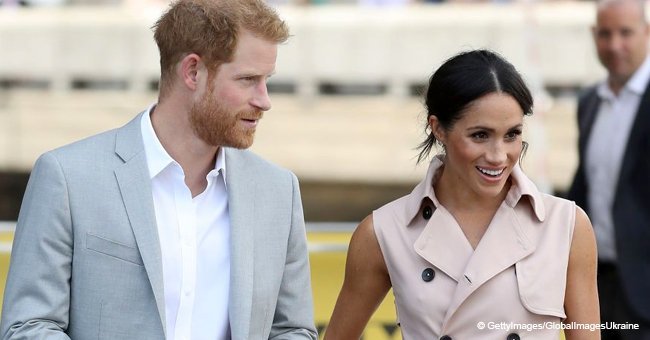 Here's why Prince Harry 'avoids' holding Meghan Markle's hand
Prince Harry and Meghan Markle have been known to show affection, including holding hands. They seem to be showing less affection in public lately.
On June 26, the Duchess of Sussex reached for Harry's hand during the Young Leaders Reception at Buckingham Palace.
However, the Duke of Sussex appeared to immediately move his hand away from the affectionate gesture, as reported by People.
One of the reasons for the couple's new lack of public affection is because it's uncanny for royal couples to hold hands in front of Queen Elizabeth.
The Queen and her husband Prince Philip never show affection in public either. Follow us on our Twitter account @amomama_usa to learn more
Royal biographer Gyles Brandreth told People that this is due to the "stoic values" of their generation. Harry and Meghan's open affection has been quite unusual royal behavior.
When it comes to official royal outings, a certain etiquette tends to be the standard. For example, Prince William and Kate Middleton rarely show public displays of affection.
Myka Meier, a royal etiquette expert, founder, and director of Beaumont Etiquette told People:
"It is rare to see royal couples holding hands on official outings."
Meier added: "A more serious engagement would warrant a more serious level of professionalism, which each royal is sure to follow."
"While we are much less likely to see The Duke and Duchess holding hands in public, we often see Prince Charles and The Duchess of Cornwall holding hands – it's all simply a matter of preference for each couple and is also likely dependent on the nature of the event they are attending."
Harry and Meghan have held hands, rubbed each other's backs, and linked arms in public since their first appearance together at the Invictus Games in September 2017.
The couple's moves are almost never copied by the Duke and Duchess of Cambridge.
However, now that the former "Suits" actress is an official royal, they may refrain from those public displays of affection, particularly at more formal royal events.
"While Prince Harry and Meghan holding hands is atypical for royal engagements, it is a seemingly welcomed gesture to show unity and celebration of their engagement period," Meier said. She added:
"There is no protocol that says they can not show affection on official engagements, and this gesture makes them relatable and lovable to the public."
According to Meier, holding hands at a royal engagement is a "refreshingly modern approach to their new role both as a couple and as representatives of the royal family."
William Hanson, an etiquette expert, also explained that the couple may feel the need to appear more professional now that they are married.
Hanson told Daily Mail: "Prince Harry has probably felt less of a need to hold Meghan's hand as she seems to be much more confident and secure in her new role, and so needs less emotional and physical support from her now-husband."
He added that public displays of affection, including hand-holding, may be accepted in private situations and social spheres, but when out in public the two are on official business, and so it is not considered professional behavior.
Hanson suspects that Harry and Meghan realize that as a married couple, their job and status is what comes first.
Please fill in your e-mail so we can share with you our top stories!