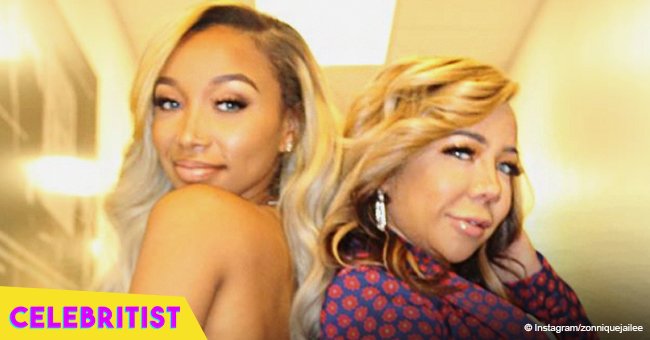 Tiny Harris' daughter Zonnique's recent photo sparks heated debate over the color of her eyes
Zonnique Pullins latest Instagram post has fans wondering if she changed her mind about having a surgery to change her eye color. Following her mother's steps, Pullins got the procedure done three years ago.
When Tiny Harris decided to fly to Africa to permanently change her eye color from brown to light grey, her eldest daughter Zonnique was not that happy about the decision. Regardless of her opinion, she went with Harris to take care of the singer after the surgery.
A few months later, Zonnique was going under the same procedure, and she's been rocking grayish blue eyes since then.
However, one of her recent Instagram pics has fans wondering if there was something wrong with the surgery or she just simply got tired of the results.
In the pic, the 22-year-old signer is looking straight at the camera wearing a white top and showing off her new blonde bob hairstyle. But it wasn't the young woman's hair what caught the attention of fans; it was the fact that she has one blue eye and one brown.
Confused fans immediately took to her comment section to share their worries and thoughts on the picture and her eyes. User @space.jam.jetson wrote:
"Sooo how u go from two brown eyes. To two blue eyes. To 1 and 1. Girl. If u don't find yo damn contact. Lol."
While @classically_melanated_beauty said:
"So glad you went back to natural eye color, so pretty."
And @bella_goaldigga asked,
"You changed your eye color back?"
While Zonnique didn't address the questions directly, some fans are speculating she actually went back to Africa to rewind the procedure and is now wearing contact lenses instead over her natural brown eyes.
According to what Tiny Harris explained of the painless procedure, which is still illegal in the U.S, consists of placing a silicone disc on the eye. "They go into the eye, and they make a little slit," Harris explained to ABC. "They take an implant, and it's folded up. They open it [, and] spread it over your eye."
Despite the high risks of the surgery, which go from glaucoma to corneal problems, Harris expressed she was more than happy with the results and her husband, rapper T.I, loved it.
Is not rare for Zonnique to have decided to follow her mom's steps by changing her appearance, as she grew up surrounded by luxuries and people who have no problem with altering their appearance to look more beautiful.
Zonnique recently sparked rumors about a breast implant after she shared a video rocking a pink outfit and many fans pointed out that her breast looked bigger.
But that's another rumor she has yet to confirm or deny.
Please fill in your e-mail so we can share with you our top stories!