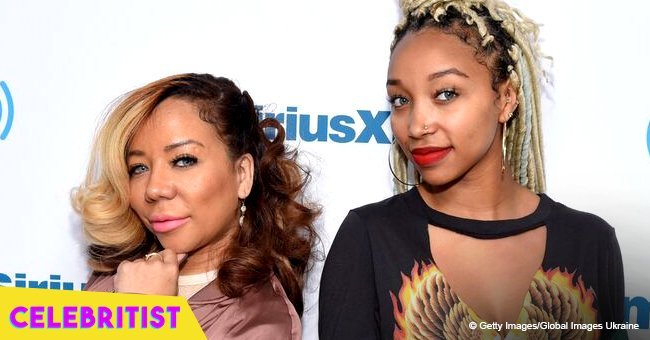 Tiny Harris' daughter, Zonnique Pullins, sparks breast implants rumors in recent video
Zonnique Pullins draws attention to a photo she recently shared where fans noticed how gifted she's become. They suspect she's gone under the knife for implants.
A short clip posted by Tiny Harris' daughter, Zonnique Pullins, is making waves on the internet. She was dressed in a two-piece outfit with a tube top and drawstring pants. And while she flaunted quite a figure in her pink ensemble, fans zoomed in on a glaring aspect of the photo – her breasts.
"anybody else just likes to be cute in the house two piece set: @fashionnova,", Zonnique wrote promoting her outfit which was overshadowed by her overflowing derriere that could hardly be contained by her top.
Fans took to her comments section to express their surprise at how "gifted" she's become lately. This led others to believe she may have undergone the knife for breast implants, as this commenter wrote.
"Breasts Implants, smh Why do Black women feel the need to, Alter their Bodies I follow her, an I've never seen her boobs that big, your beautiful they way you are."
Not too long ago, Zonnique also sparked another kind of rumor when she posted a photo celebrating the first birthday of her "child." The rumor fizzled out soon after it began when she revealed the celebrant was her dog.
"It's a celebration because it's my child's 1st birthday and because I've never kept a dog this long! Even though I try to sale you every other day and you're the most annoying thing I've ever spent money on. I got too much love for you to give ya cute self away! baby boy xoxo? @ladieslovewhiskey."
Zonnique is Tiny's daughter from a relationship before her husband T.I. came into the picture. As the rapper's stepdaughter, the-22-year-old looks up to T.I. as his superhero. She said this much during a recent interview with Slate.
Zonnique revealed T.I.'s hero powers had something to do with making her dreams come true. That included introducing her to famous people, some of them her crushes.
"I feel like when I noticed [my stepdad] was like famous famous—he would call me and be like, 'I have someone who wants to talk to you,' and people who I would have a crush on, he'd have them on the other line. So I was like, OK, he's popular."
"I remember one time it was Chris Brown, and I was thinking, 'Oh, I'm about to get with Chris Brown.' And the next time it was Nick Jonas, and I was just in love with the Jonas Brothers and stuff."
Meanwhile, Zonnique has a close relationship with her mother. On Tiny's recent birthday, the proud daughter referred to her mom as her "number 1" and her "real-life best friend" in a post to mark Tiny's 43rd.
'It's my number 1s DAY!!!!!!! My first phone call about whatever! If she don't know, it ain't important! My real life best friend, mother, number 1 supporter, and the list goes on!! It's literally always my duty to put a smile on your face and make sure you're good? I could never stop loving you! Happy Birthday to my one in a million????? @majorgirl."
Zonnique's life is pretty special with her mom and stepfather around.
Please fill in your e-mail so we can share with you our top stories!