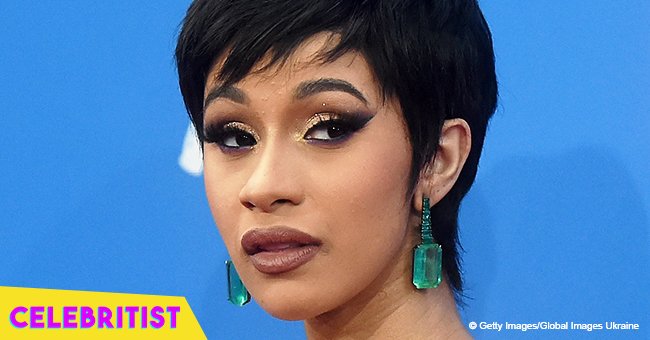 Cardi B reportedly suffered serious 'post-partum complications' following daughter's birth

Cardi B reveals post-partum woes in the midst of fighting a lawsuit filed against her for an album cover. The singer had also previously begged off of Bruno Mars' concert tour due to the demands of motherhood.
After dropping out of Bruno Mars' world tour due to the demands of motherhood, Cardi B has just revealed she's suffering from post-partum complications.
Cardi's admission of her post-partum woes stems from a lawsuit she's currently fighting regarding her album cover. Kevin Michael Brophy Jr. sued Cardi claiming she lifted an image of his and used it as artwork for her "Gangsta Bitch Music Vol. 1." His proof is a distinct tattoo of a tiger fighting a snake on his back which was prominent in the artwork used in Cardi's album.
Though Cardi filed to dismiss the case claiming the man was merely extorting money from her, it hasn't been resolved pending a deposition. In June, the singer and her plaintiff agreed to reschedule their hearing as she was heavily pregnant and expected to give birth the following month.
Now that it's months after she gave birth to her daughter Kulture Kiari Cephus who was born on July 10, the singer is requesting the court for more time revealing her post-partum difficulties.
In documents filed by her lawyers and obtained by The Blast, it was stated that Cardi "gave birth to a baby girl in mid-July, but has suffered unanticipated post-partum complications sufficiently serious enough to cause her, among other things, to have to cancel an upcoming and much-publicized tour, performing with Bruno Mars."
It added,
"Her condition also made it impracticable for her to fully participate, for some weeks, in completing factual investigation and complete the pending jurisdictional discovery."
While still pregnant, Cardi had expressed her intention to join Bruno Mars for his "24K Magic Tour" this month. However, she realized she underestimated motherhood three weeks after giving birth and decided to back out of the concert tour.
In an announcement on Instagram, she said she didn't realize six weeks would be insufficient to recover mentally and physically and added,
"I also thought that I'd be able to bring her with me on tour, but I think I underestimated this whole mommy thing."
The rapper also said her doctors don't advise her to bring her baby on the road.
Bruno was supportive of the singer's decision and responded by tweeting her family and health were more important.
Meanwhile, Cardi isn't the only new mom who's had to sacrifice her career for the sake of her health. Serena Williams has had to take a hiatus from tennis after suffering a life-threatening childbirth last year. Though she's now back in the sport, she recently admitted to suffering from post-partum depression after her loss at Wimbledon. The tennis superstar said some days she'd have meltdowns and it's been a struggle to strike a balance between motherhood and her career. However, she dedicated her loss to many mothers who she knew were also going through what she was. She remains optimistic she'll overcome the challenge in time.
Please fill in your e-mail so we can share with you our top stories!