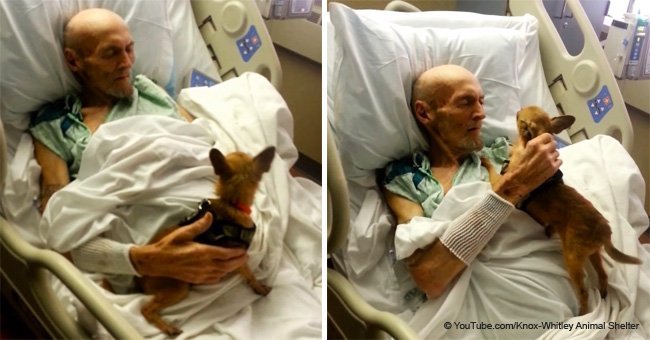 Hospital pulled out all the stops to reunite dying patient with his one-eyed dog

James Wathen, 73, was sinking into a black hole soon after he entered the Baptist Health Corbin hospital. His long-time companion brought him out for a while longer before his death.
Wathen was suffering from COPD and cirrhosis. Along with that, caregivers noticed serious depression in the elderly man.
Before long, Wathen was losing several pounds a week. To make things worse, he stopped eating. That's when hospital staff knew that had to break some rules.
Follow us on Twitter for more @amomama_usa.
Despite the hospital forbidding animals from their grounds, staff cut corners and reached out to find Wathen's one-eyed chihuahua named Bubba.
Diane Elswich, the wife of Dennis Elswick who was raised by his grandmother and her husband - Wathen, related the series of events.
When Wathen was hospitalized in October, he and Bubba got separated and neither of them knew where the other was. Staff contacted the Knox Whitley Animal Shelter to help look for Bubba.
When they found him, the reunion between the two brought everyone in the hospital room to tears. Bubba had also "quit eating a week ago, which is very strange."
"Believe it or not, they both stopped eating at about the same time."
Regardless of the two's frail figures, they were incredibly happy to be together again. Wathen was brought to tears, and Bubba's tail would not stop wagging as he affectionately licked his long-time friend.
Sadly, Wathen passed away in December. Bubba will go back to live with his first owner, Diane along with her other dogs and one cat.
Back in July, a dying father also got his last wish to see his daughters get married before passing. Akhil Jhaveri was suffering from Amyotrophic Lateral Sclerosis.
His daughters, who weren't quite on the verge of a real marriage, decided to prepare mock weddings so that their dad would be able to walk them down the aisle.
The event took place within a week at Ridgefield, Washington, with friends chipping in to make sure it happened.
And a couple years ago, a small dog was moved to tears when he was brought back to life around 30 hours after almost dying.
Please fill in your e-mail so we can share with you our top stories!