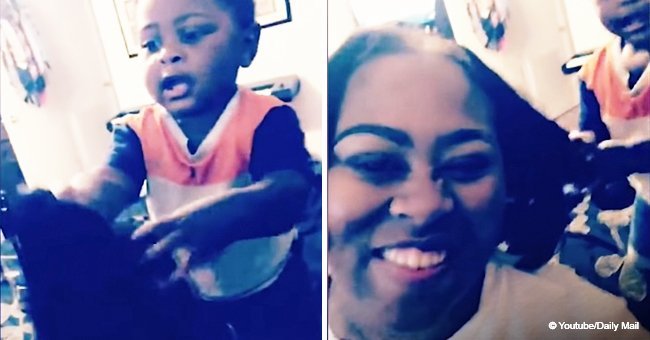 Toddler hilariously freezes in horror after accidentally pulling his mother's wig off
A hilarious video of an American toddler getting familiarized with his mother's wig is breaking the internet. The poor boy's terrified face has people losing it on social media.
An African American mom thought it would be funny to record her son's reaction as he was playing with her wig and she realized it was about to fell off. The innocent boy was playfully pulling on his mom's hair until the weave came out and he was left with the piece on his little hands.
The boy's expression of terror and shock caused his mother to start laughing uncontrollably, as he was visibly confused and scared while holding the wig out, trying to give it back to her. He even started to make horrified sounds while trying to attach the piece to his hair, widening his eyes to the camera.
The woman was clearly amused at her son's reaction, as she zoomed in on his face and could barely breathe through her laughter as she said, "That was so lit," and "that's my weave" in between giggles.
"The poor child's scarred for life! I wouldn't know what to do, or what I did!" said one commenter under the video, and another joked "Now instead of calling her mommy, the kid calls her wiggy."
While the mom in the clip wears her weave with confidence and as a voluntary choice, as she was not afraid to share the clip on social media, a story of a 17-year-old that has to wear wigs for an entirely different reason has been melting hearts all over the internet.
THE POWER OF A WIG
The girl, Tyliece Pepper, is currently battling brain cancer for the second time in her life. As part of the treatments she has to go through, Pepper had to lose her long, braided hair, and while is one of the most challenging parts of the entire process, the teenager knows it will grow back.
However, for every girl in her teens, hair is an essential part of their self-image and confidence. So, for Pepper, it was only natural to try and find the best wig that would boost her look. She saw the one in a two-tone turquoise and black wig that, according to her, "symbolizes confidence, integrity, and power, to help me weather through the storm."
When Pepper attended her first day of senior year at McKinney ISD high school, she wasn't expecting to be told that her hair was breaking the school's policies and she couldn't wear it. Saddened by the news, the teenager tried to appeal to her school principals and asked the support of her friends on social media saying:
"I know there are rules and there are always exceptions, I'm asking for the sake of my sanity please allow this to be one. I'm empowered by wearing this wig although it's subtle in color it gives me an abundance of strength and power to grieve the loss of my hair and gives me the fortitude I need to fight this battle I'm facing with cancer."
Her case became viral with people calling out the school for its insensitivity, and even the lieutenant governor of Texas, Dan Patrick, got involved in Pepper's campaign to wear her wig. Eventually, the school reversed their decision and allowed the teenage to rock her turquoise hair.
"I feel a relief, and I'm honestly hoping that if there's anyone else going through my circumstances, that this will help them along the way as well," the girl told CBSDFW.
Please fill in your e-mail so we can share with you our top stories!