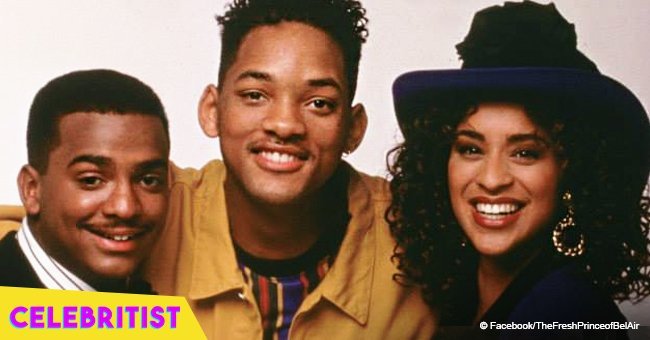 Will Smith and Alfonso Ribeiro hang out in 'Fresh Prince of Bel-Air' reunion photo

Former co-stars, Will Smith, and Alfonso Ribeiro increased speculations of a "Fresh Prince Of Bel-Air" revival with a recent photo of them hanging out together.
Smith, 49, shared a photo of the duo matching in striped T-shirts and caps as they huddled together for a selfie. The "Men In Black" actor was apparently excited as he wrapped an arm around Ribeiro and wrote in the caption:
"One of my favorite people on this Whole Damn Rock!! @therealalfonsoribeiro"
Ribeiro, 46, shared a similar post and revealed the two had been out golfing:
"Had a great time this morning playing with my boy @willsmith."
Smith and Ribeiro, who played Carlton Banks on the hit '90s sitcom, have remained close long after the show's end in 1996. Speaking in 2014, Ribeiro said of his friendship with Smith:
"We've spent many years working together, hanging together, playing together, you know, having families together, [Will is] just a wonderful individual."
Along with other members of the show's cast, the pair came together last year for lunch in Malibu. Ribeiro shared the photo featuring Tatyana Ali who played Ashley, Karyn Parsons who played Hilary, Daphne Etta Maxwell who played Vivian, and Joseph Marcel who played Geoffrey, and Smith who played a fictionalized version of himself.
Fans immediately began anticipating a return of the show until Parsons explained that the outing was meant to raise money for her charity.
While a majority of the "Fresh Prince Of Bel-Air" cast remain on friendly terms with each other, there is one ex-castmate who is not on board.
Janet Hubert, who played Aunt Viv on the show insists that Smith is responsible for her getting fired from the show after only three seasons.
In June, she blamed the "Hancock" actor for her son's attempted suicide, writing on Facebook:
"Dear Will…you destroyed my life with your lies…YOU win my son is in the hospital. #suicideattempt #F____YOUWORLD!"
Hubert also lashed out last year after she was left out from the Malibu reunion.
Please fill in your e-mail so we can share with you our top stories!