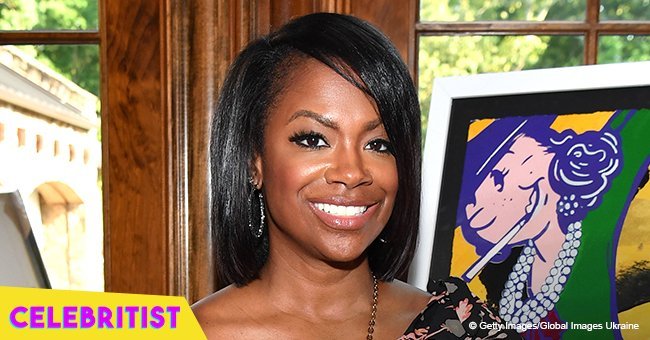 Kandi Burruss melts hearts with video of her son rocking chic outfit for picture day at school
Kandi Burrus youngest son, Ace Tucker, has been melting hearts all over social media with a recent video the reality star shared to her Instagram. The little boy was ready for his picture day at school, and his outfit was entirely on point.
Ace Tucker is only 2-year-old, but he has become a favorite among Kandi Burrus' fans thanks to his adorable smile and bright personality. The little boy has an Instagram account managed by his parents with over 450k followers, who loved to see what new adventure the toddler gets into every day.
Burrus and her husband, Todd Tucker, couldn't be prouder of their smart boy, and it was Todd who was in charge of putting together a fashionable look for Ace on his picture day at school a few days ago.
Ace rocked a white buttoned up t-shirt under a grey vest, a blue tie with white polka dots, and black and white sneakers. His hair, which is usually braided, was styled into a big afro, and the adorable boy was visibly happy and excited about his look.
In the clip, Todd makes a series of questions for Ace, including his mom's, sister's, dad's and dog's name, and Ace answers every single one correctly. The boy's happy demeanor made Kandi's fans' hearts melt, and they filled her comment section with praises for her son.
One user wrote:
"AWWWEEE Ace is so Handsome and has an eye for big boy fashion I see,"
another added:
"I've watched this video like six times now Ace is so adorable and cute Great job Kandi and Daddy Tucker,"
and a third one said,
"I've watched this video like six times now Ace is so adorable and cute Great job Kandi and Daddy Tucker."
At his age, Ace is already learning how to speak Mandarin, play the drums and swim by himself. Videos of the boy having fun in all those activities show how well mannered and willing he's to learn new things. He's also fearless, as proved by Kandi's posts of her family vacation to Dubai a few months ago.
ACE LOVES ALMOST ALL ANIMALS
Ace got to ride a camel with his dad, and instead of being scared, he was worried about the rest of his family being okay and enjoying the ride as much as him. He also got to take a picture with a majestic falcon and even had a stare down with the bird.
Kandi noticed this and captioned one of the pics:
"Why does @acewellstucker look like he wants to kick the falcon's ass?! He wasn't scared at all but he looked like he was ready for war. #mydubai"
It seems like Ace might have a liking for birds and other animals, but when it comes to reptiles, he draws the line. The boy recently attended Monica Brown's daughter's birthday party, and the singer hired a reptile zoo so the kids could meet some snakes and other reptiles.
Kandi, always putting on a brave face in front of her kids, took one snake and put her around her shoulders while asking her son if he wanted to make a picture with her. However, little Ace wasn't that excited with the idea.
The "Real Housewives of Atlanta" star and her husband are doing a fantastic job raising their son, and fans are more than happy to see Ace grow up in front of their eyes.
Please fill in your e-mail so we can share with you our top stories!