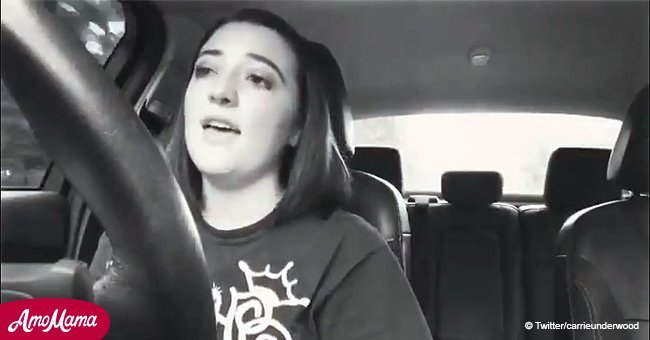 12-year-old girl becomes a social media sensation after being praised by Carrie Underwood
A voice like this 12-year-old's is guaranteed to win hearts! For many singing your favorite song in the backseat of a car is a treat, especially for a kid. For one kid however it has turned out to be much more and rightfully so! This was the experience of 12-year-old Ansley Burns, a seventh grader from Easley, South Carolina who quickly became a social media sensation.
Halfway through Ansley's gripping and powerful rendition of country music star, Carrie Underwood's latest hit, "Cry Pretty", her mom Stephanie Burns began filming her. She later shared the clip with family and friends on Facebook and asked them to share their opinions on her daughter's singing ability.
Not surprisingly they were impressed and they began sharing it. At present the video has received 19,000 shares, 9000 reactions and 79 comments. Ansley has come in for praises from people around the world including Underwood.
In commenting on Ansley's performance, Underwood, a seven-time Grammy Award winner heaped praise on the talented South Carolina native via Twiiter.
"Ansley, this is amazing! Everybody keep your eyes out for this girl!"
Carrie Underwood, Twitter, September 3, 2018
On seeing Underwood's post, Burns called Ansley into the room to share the news. Thinking that she was in trouble Ansley had to be reassured that she was not.
"For Carrie Underwood to acknowledge Ansley is validation for us that she really can sing, and showed us she's doing the right thing,"
Stephanie Burns, The State, September 4, 2018
According to Burns, Ansley has been taking music lessons since she was 3 years old.
"We couldn't always understand the words she was singing, but she was always in tune and on pitch."
Stephanie Burns, The State, September 4, 2018
All the comments that were shared on social media also heaped praises on Anstey. Stacy Wood who took the time to comment on Facebook posted a heartfelt message.
"Beautiful, she killed it. Keep up the singing young lady...#YOUGOTIT"
Stacy Wood, Facebook, September 6, 2018
Ansley who is a member of her middle school chorus, has been taking vocal lessons with her current teacher for at least the last three years. She hopes to hear from Ellen and has a lot of things that she is looking forward to. Without a doubt it certainly is safe to say that Ansley Burns does have a lot to look forward to. Here's to wishing her the very best!
Please fill in your e-mail so we can share with you our top stories!