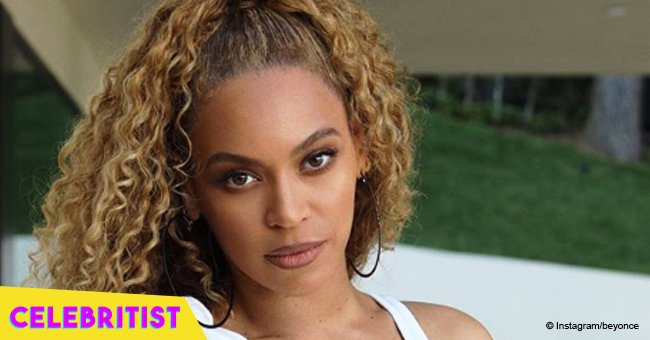 Beyoncé stuns in plunging top in 37th birthday photo, confirming renewing vows with Jay-Z

Singer and actress Beyoncé took to Instagram to share a photo of herself during her birthday celebration. She listed the best things she did the previous year.
In the photo, Beyoncé appeared wearing a beautiful loose pink dress while using a knife to cut the birthday cake. Jay-Z was next to her in a white shirt and black sunglasses recording everything with his smartphone.
Even though she didn't add a location tag, it was obvious that the celebration was in an open area as only a couple of trees and bushes were visible behind the couple.
While the photo was adorable and it showed a very intimate part on Beyoncé birthday, the singer's caption was the highlight of the post.
She confessed that, while she was 36 years old, she became a new mother, breastfed twins, and renewed her vows with her husband of ten years, Jay-Z. That last sentence finally confirmed the rumors about their vows renewal ceremony.
WHEN DID THOSE RUMORS BEGIN?
During one of the firsts concerts in Europe the couple threw as part of their "On the Run II" tour, they showed a video of themselves wearing white outfits and kissing each other in what seemed to be a vows renewal ceremony.
However, neither of them confirmed or denied that it was actually a ceremony. Now that Beyoncé confirmed it, the couple's fans can be sure that their relationship is as good as possible once again.
THE REST OF BEYONCÉ WORDS
Beyoncé added that, while she was 36, she took the stage at Coachella after pregnancy, she and Jay-Z released a joint album titled "Everything Is Love," and that they have been touring the world with their family.
"This year has been monumental for me. I thank God for everyone in my life. Thank you for all the positivity and for the beautiful birthday wishes. I'm looking forward to continuing to learn from my past, living in the present, and surrendering to the future," finished Beyoncé.
TINA LAWSON'S TRIBUTE
Beyoncé mother dedicated a sweet message followed by an adorable baby photo of the singer posted on her Instagram account. In the picture, baby Beyoncé was wearing a pink dress with a floral design that made her look very cute.
For the caption, her proud mother wrote that Beyoncé was only four months old when that photo was taken and that she couldn't control the excitement and pride she felt for her already.
Tina added that she couldn't believe that God chose her to be her mother, and finished by wishing her a happy birthday.
Please fill in your e-mail so we can share with you our top stories!