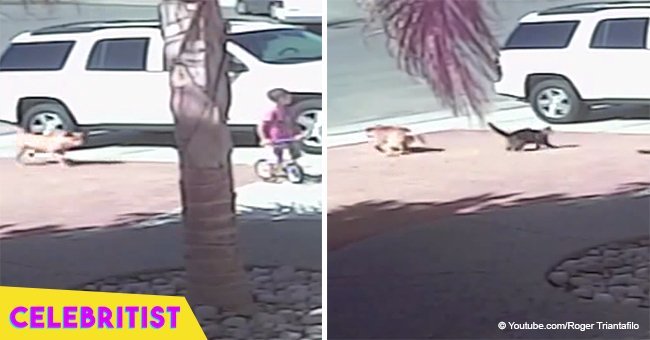 Family сat saves boy from dog attack with flying 'karate kick' in viral video

You've probably heard it said that cats are selfish, but the California cat in a viral video proved that saying wrong.
Tara, the cat, was willing to face-off with a vicious dog to protect her autistic owner. Jeremy Triantafilo was enjoying the sunny day as he rode his bicycle in the driveway of their Bakersfield home.
The security cameras caught Scrappy, a vicious next-door dog as he got out of his yard and charged towards an unaware Jeremy.
Scrappy knocked Jeremy off his bike and got hold of the boy's leg when, seemingly out of nowhere, Tara emerged.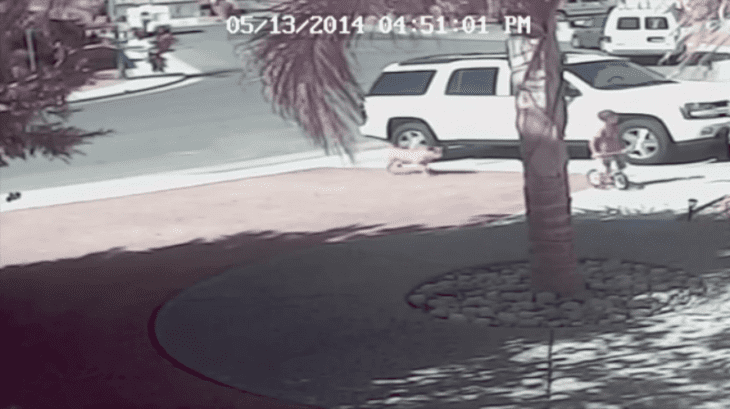 YouTube/RogerTriantafilo
The feline launched at Scrappy with a karate-style kick and ran him off. She made sure he was gone and then rushed back to check on Jeremy, whose mother had been alerted.
Thankfully, Jeremy only suffered a slight shock and had to have eight stitches, but was otherwise okay.
The video of Tara's heroic act was uploaded on YouTube and went viral in no time, garnering over 24 million views. Tara became an internet sensation, and countless media outlets published her story.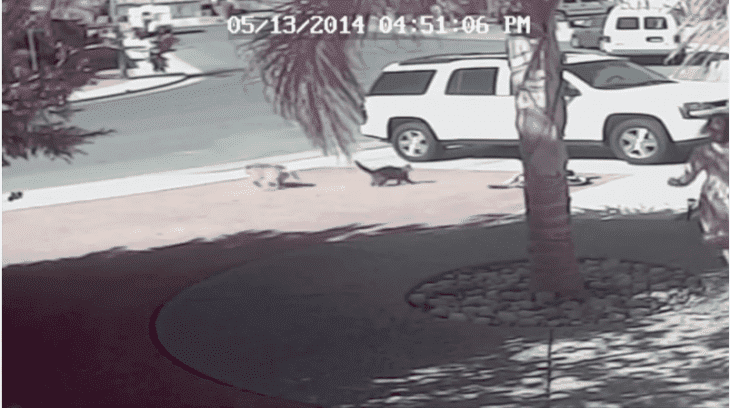 YouTube/RogerTriantafilo
Jeremy's dad, Roger Triantafilo, revealed that his son had called Scrappy a "bad dog" while referring to Tara as his hero. Roger added:
"It's pretty amazing to see just a cat take on a dog and selflessly put herself out there. That dog did not even know what hit him."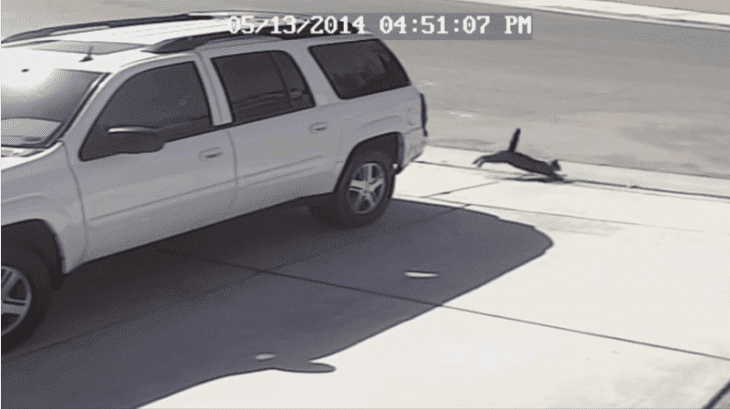 YouTube/RogerTriantafilo
One year later, in 2015, Tara became a recipient of the annual "National Hero Dog" Award presented by The Society for the Prevention of Cruelty to Animals in Los Angeles (SPCALA).
The organization's president, Madeline Bernstein, said at the time:
"We were so impressed by Tara's bravery and fast action that the selection committee decided that a cat this spectacular should be the National Hero Dog."
See Tara in action below:
Roger disclosed that even though Tara got along with everybody, she had a soft spot for Jeremy:
"The neighbor kids come over and play with her. Dogs walk by all the time. She gets along fine with our dog, Maya. But if Jeremy falls off his bike, she comes running. If he starts crying, she comes running."
Tara went on to receive a local holiday in her honor. Kern County now celebrates "Tara the Hero Cat Day" on June 3.
Please fill in your e-mail so we can share with you our top stories!