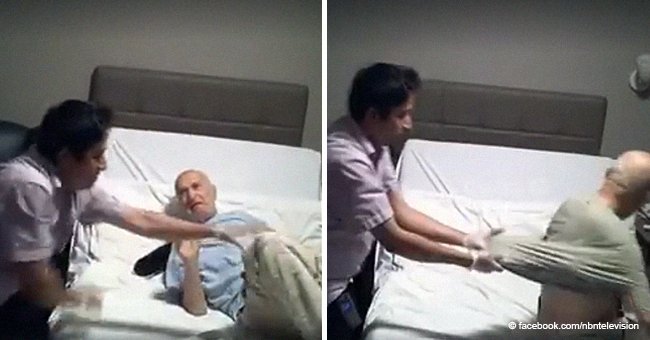 Caretaker arrested after abusing elderly man (video)

An 82-year-old man at a dementia care facility in Horby, Sydney, was assaulted by one of the staff members late last month.
A video of the assault has since gone viral, and David Nabulsi can be seen sitting on the bed while the facility employee shoves him around and grabs him by his shirt.
In another scene, the care worker attacks Nabulsi with a shoe and hits him in the head multiple times. Read more on our Twitter account, @amomama_usa.
The attacker has since been identified as 35-year-old Prakash Paudyal. The shocking footage can be viewed below.
Authorities learned that the abuse took place between August 26 and August 29. Paudyal was charged with three counts of assault, and his hearing will be in September.
He was taken to Manly Police Station at approximately 2 p.m on Wednesday but has since been released on bail. He was also dismissed from his employment at the facility.
Nabulsi's daughter, Ayda Celine describe the footage of the assault as "devastating" and said her father had complained about back pain.
Upon closer inspection, Celine saw "dark, black bruising that had been there for a while." At the time, she thought he might have had a fall.
However, his condition deteriorated. She said: "He wouldn't let me touch him, and he didn't leave his bedroom or eat."
She eventually installed the hidden camera in his room to learn the truth. Apart from the abuse, he was often left alone for hours at a time.
Celine also told reporters what on some days, her father would sit in a "wet nappy for hours and in soaked clothes and no one [...] changed him."
Detective Acting Inspector Guy Magee is taking point on the case and told the press that employee's behavior was "cowardly and disgraceful." He urges other families to step up and speak out against abuse.
In another shocking case from Australia, a senior man was on a train in Perth when a guard forcibly dragged him and his therapy dog off the train.
The guard didn't want the man's dog to accompany him, despite being shown proof that it was a therapy dog.
The Transport Authority spokesperson sided with the guard and said they were "satisfied that our transit officers have performed their duties appropriately." Read the full story here.
Please fill in your e-mail so we can share with you our top stories!