Woman shocks with the 'world's biggest bum' and she wants more
Natasha Crown is a Swedish glamour model who has achieved an 83-inch bum after having three surgeries done. She is preparing for a fourth surgery. 
The record-holding woman spoke to This Morning who uploaded the interview on YouTube. Hosts Holly Willoughby and Philip Schofield's first focus was on the health risks involved.
The Brazilian butt lift that Crown uses has one of the highest death rates of all procedures according to a consultant and plastic surgeon spokesman. 
Follow us on Twitter for more @amomama_usa.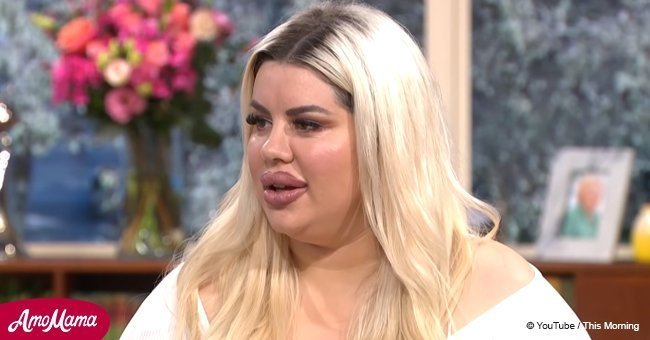 The 24-year-old was not aware of that particular statistic. She conceded that she knows it can be risky but at the end of the day, she said, "It's my own choice." 
To achieve Crown's new goal of 90 inches, she has to eat food high in calories such as cheeseburgers, pizza, waffles, pasta and tons of chocolate.
This is to gain enough weight that can be transferred from other parts of her body to her bum. This must be achieved at least two months before the surgery. 
Crown concedes that many, including her family, are quite concerned about her decision. But she says she "feels healthy." 
She had heard about Leah Cambridge from Leeds who died just last week due to the operation. Crown simply responded that "maybe she had bad luck." 
But Crown herself is having trouble with her daily living. She acknowledges the drawbacks of her extremely large bum: 
"I can't run because it's so heavy. I can't sleep on my back because it's really round." 
The setbacks don't hinder Crown from being healthy according to her.
She claimed: 
"People should know that I exercise every day so I'm not just eating. To maintain the muscles in the right place you have to exercise a lot."
Concerned persons might be comforted by the fact that the surgeon will not proceed if a person's body is less than ideal. 
Crown explained: 
"Before you do the surgery, they will test everything to see if they can do the operation. In some cases they don't do it if you have bad results of the tests but so far so good."
Crown makes a profit online on her website thanks to her extreme looks. Although she had not intended to have the biggest butt at first, Crown seems to be well on her way to securing the record title for a long time.