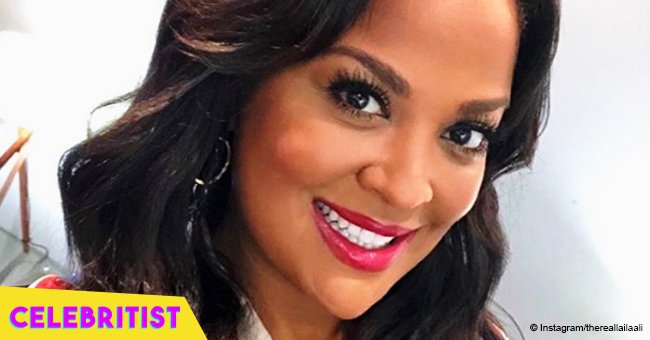 Laila Ali flaunts curves in tight jeans in recent pic after gaining weight
Laila Ali recently shared a photo with her suggested "stunt dummy." The former professional boxer flaunted flattering curves despite admitting to gaining weight lately.
Laila Ali's curvy figure was the highlight of her recent photo where she asks fans if the stunt dummy she was holding beside her was going to pass as her. The daughter of Muhammad Ali revealed she's shooting for a project and needed a stand-in for her.
Two weeks ago, Laila surprised fans with a stunning photo of herself wearing a tight black off-the-shoulder dress. She looked fuller but gorgeous as she revealed in her caption she weighed 200 pounds. But Leila is intent on shedding off more pounds disclosing her goal is to reach 185. It shouldn't be difficult for the fitness expert who sticks to a daily workout routine. In an interview with HealthyIsh earlier this year, she said she prefers high-intensity training such as a HIIT workout on her Peloton bike.
And while Laila isn't bothered by her weight because it suits her, she's currently more concerned about who would be suitable to be her stunt double. In a photo she recently shared, she encourages her fans to have an opinion about her suggested double who joined her in the photo. Standing next to her was a life-sized doll wearing the same red floral blouse she was wearing and fashioning a black wig resembling Laila's hair. Laila also flaunted her curves in tight jeans as she smiled for the camera and with amusement wrote,
"I needed a stunt dummy this week for a project I'm shooting...but I don't know if this one will pass as me!! She needs to do some squats. [laughing emojis] What you think?"
It's unclear what project Laila is currently working on but she's set to join a panel of judges in the upcoming Miss America 2019 pageant. The event will be held on September 9 in Atlantic City and Laila will be tasked to select the next Miss America along with her co-judges Bobby Bones, Randy Jackson, Jesse James Decker, Soledad O'Brien, Alli Webb, and Carnie Wilson. Laila's expertise as a fitness guru, TV host and founder of the Laila Ali Lifestyle Brand will certainly come in handy in her judging duties.
Meanwhile, Laila's Instagram came into our attention a few months back when she paid tribute to her late father Muhammad Ali on his second death anniversary. She shared a series of throwback photos bearing happy memories of their time together and expressed her longing for him. But Laila was content knowing her father is now "happy and free!" The famous boxing champion died due to septic shock at the age of 74. Legions of fans mourned his death and his Muslim funeral became the most widely covered in the history of the US.
Please fill in your e-mail so we can share with you our top stories!