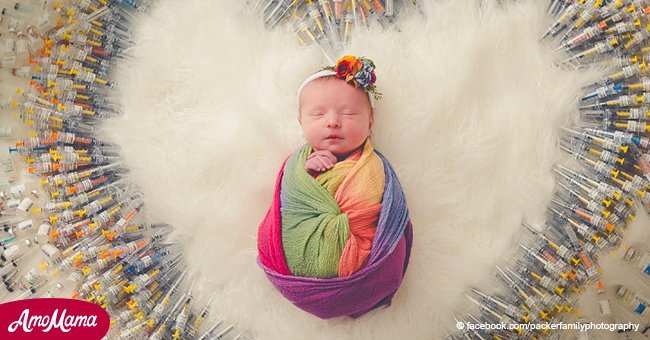 Photo of baby surrounded by hundreds of needles has become a viral sensation
Baby London O'Neill captured many hearts when the photo of her being surrounded by hundreds of IVF needles surfaced on Facebook.
It took more than four years for Patricia and Kimberly O'Neill before they welcomed their daughter, baby London.
The couple welcomed their baby in August 2018, and they decided to have a photo of the infant taken to celebrate her birth.
Patricia and Kimberly did not expect that their child's baby picture would warm the hearts of many social media users and would break the internet.
Follow us on Twitter at AmoMama USA for more viral stories and videos.
For the photoshoot's concept, the couple wanted to incorporate the hundreds of needles used in their fertility treatments in London's photo.
Speaking to People, Patricia, 30, said that she and her wife, 37-year-old Kimberly feel blessed to have their daughter.
She said, "She's calm at most times, and a little feisty when she's hungry. I don't have the words to express it, she's just so amazing."
Samantha Packer of the Packer Family Photography shared the viral photo of London on August 10, 2018.
The picture showed little London wrapped in a rainbow-colored blanket and fast asleep.
She was surrounded by exactly 1,616 needles that her mother used over the years during her IVF treatments.
Packer wrote in the caption, "4 years, 7 attempts, 3 miscarriages and 1,616 shots."
Patricia and Kimberly both have one child from each of their former relationships. Years ago, they decided they wanted to have a child of their own to complete their family.
It was a joint decision to have Patricia give birth to the infant. Although, they learned that a couple of blood conditions was going to make it hard for her to bear a child.
Patricia had to go through a number of fertility treatments.
After a long process, the couple went through three tragic miscarriages, which almost made Patricia want to give up.
She said, "I was done. I was done poking and prodding myself. I was done with all the doctor's visits. I was throwing in the towel. My wife and my mom, they pushed me to do it."
For one final try, using their last embryo, Patricia underwent another treatment.
Eventually, she became pregnant, but the doctors warned the couple not to get too excited.
Months had passed, and Patricia and Kimberly finally welcomed their baby daughter via C-section.
Patricia recalled how she and Kimberly both shed tears the moment they heard London's first cry.
She said, "I was shaking and crying so hard. It was an overwhelming feeling of relief. She's here. It was a lot of emotions for us all at once. It's still unreal to me that we finally have our baby. We actually made it here."
Now, the photo has reached almost a hundred thousand likes and had been shared more than 67 thousand times on Facebook.
Please fill in your e-mail so we can share with you our top stories!