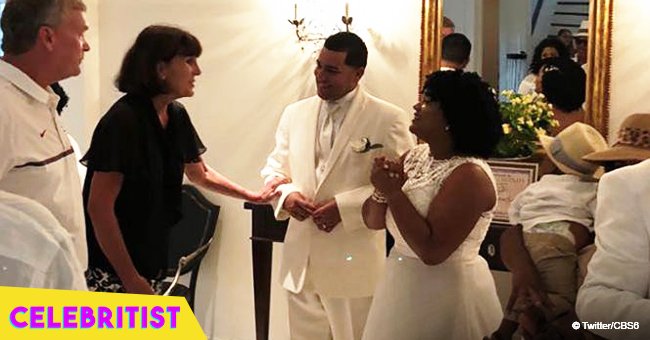 Beach wedding was ruined by storm but a stranger jumped into action and saved the celebration
Dulce and Ariel Gonzales had their dreamed wedding all set up at the beach when the rain started to pour down, not only ruining their decorations but the couple's mood. Luckily for them, a couple that lived nearby saved their day, and now they're bonded forever.
Like any other bride, Dulce Gonzales was ready for her wedding day to be the most perfect in her life, so, when she was ready to walk down the makeshift aisle that her team set up at the beach in Pascagoula, Mississippi, and a storm broke, she was devastated.
Her 50 guests were all waiting for the rain to pass in their cars, and she was about to have a panic attack when a drenched woman appeared outside her car offering a solution.
Cynthia Strunk and her husband Shannon live in a beachfront house near where the ceremony would take place, and they witnessed the preparations all morning. So, noticing that rain was not going to stop soon, they decided to save the day and the stranger couple's wedding day.
Strunk offers Gonzales to use her home as an impromptu wedding venue, and she accepted. "The bride's father was saying 'thank you' over and over, and the bride's mother was tearing up," Strunk, 67, recalled. "So I quickly ran back to the house and told my husband, 'We're having a wedding!'"
The Strunks have a big family and are used to hosting big gatherings, so they pulled out their folding chairs and made of their spacious living room a cozy and romantic place for the ceremony.
"They had everything set as if we actually planned it," Dulce revealed to Inspire More. "It was perfect. I told my husband that [the Strunks] were little angels that God sent us."
Dulce and Ariel tied the knot at a stranger's place surrounded by their family and friends, and afterward, the bride's father took the time to thank the homeowners for their sweet gesture in Spanish. Dulce is Dominican, and Ariel is Puerto Rican, but they translated to the Strunks their families kind words.
"Me and my husband are really taken aback that everyone thought it was such a big thing," Strunk said. "I really do think that anyone in the area, if they could've done it, they would've done it too."
A week later, Dulce and Ariel visited the Strunks with cake and a flower arrangement to thank them for their kindness. And Dulce's father did the same, adding a bottle of liquor. Cynthia shared a Facebook post recounting the experience, and she has been receiving an outpouring of love from all over the country for her gesture.
"I did tell them that when they have their first baby that I fully expect them to bring the baby to the house and tell them where it all began," Cynthia said.
Please fill in your e-mail so we can share with you our top stories!