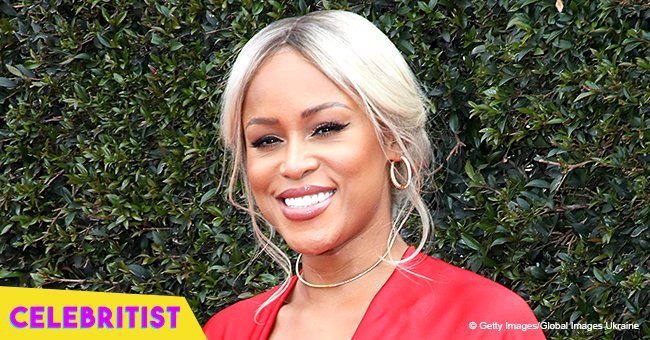 Eve's millionaire husband shares old photo with 'wifey' riding a camel while on exotic vacation

Eve and her husband, Maximillion Cooper keep delighting us with pictures of their love, like this one of the duo bonding on a camel. From their chemistry, it's hard to imagine the rapper once thought she would never be married.
In the throwback photo shared by Cooper, the couple poses atop a camel in what looks like a desert area. The famous pyramids of Egypt are visible in the background, as well as a guide who stands by the animal.
The "Gumball 3000" boss, Cooper, gushed in the caption and called Eve that affectionate name we're all getting used to, thanks to his Instagram photos:
"I love this photo of me and wifey! #tbt #eve #mrscooper #egypt #pyramids #cooperfamily #gumballlife"
With the kind of love that exists between Eve and her British millionaire husband, you wouldn't guess the rapper had once given up on marriage. Opening up on "The Talk" where she serves as co-host, Eve admitted that even her mother thought marriage was off the table for her [Eve]:
"I kind of was like, 'I guess I'm never going to get married'. My mother even said to me once, 'Well, not everyone is meant to get married', and I was like, 'OK cool, I guess I'll just be dating for the rest of my life'."
That admission may have been devastating for some women, but not for the "Barbershop" actress who said:
"I honestly was OK with it. I was like, 'It is what it is. It might not be for everyone.' And then I met Max and I was like, 'Oh, OK'."
According to Eve, Cooper, with whom she has been married for four years, is one-of-a-kind. She confirmed that until he came along, she had never been in a relationship where both parties love and support each other.
As such, the stepmom to Cooper's four children is resolved to be the best for her man. She said:
"I'm not a romantic, but I'm gonna get better."
Please fill in your e-mail so we can share with you our top stories!