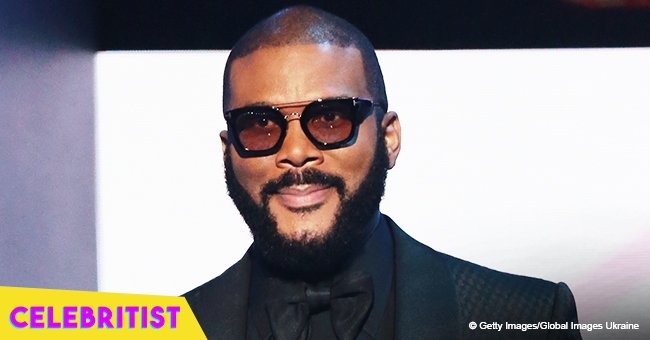 Tyler Perry's longtime lady love flaunts slim curves in black ruffled mini-dress in pic
Tyler Perry's rumored wife and long-time partner, Gelila Bekele, recently flew to Paris to shoot a set of gorgeous pics. She proved that even in black and white, she manages to look stunning.
Gelila Bekele is better known to many people for being Tyler Perry's girlfriend and baby mama, but the gorgeous woman is also an altruist that's working hard to help the people of her native country, Ethiopia.
She splits her time between being a mother to son Aman, born in 2014, her modeling career, and her altruist work. Recently, the 31-year-old beauty flew to Paris, France, where she shot a set of gorgeous pics with photographer Emma Boonne, who she called "the goddess of light."
In one of the pics, posted to Instagram, Bekele looks lovely wearing a strapless mini black dress that hugged her slim figure accentuating her curves and featured a ruffle on the sweetheart neckline and the edge of the piece. The black and white pic seems to have been shot at an amusement park, and the lightning perfectly enhances Gelila's facial features.
Is no wonder the model gave the photographer such compliments. In another pic of the same shoot, posted to Boonne's account, Bekele is staring intensely into the camera through the glass of some Parisian shop.
"Gorgeous @gelila.bekele in a cafe in Paris a week ago. I don't often post black and white photos, but I thought why not," Boonne captioned the pic. Fans of the Ethiopian model took to her comment section to share their thoughts on the photos.
One user wrote "You look amazing and you also made for the natural light," another added "sigh... hello beautiful human," and even the photographer paid a compliment back writing "You're the true goddess."
Bekele and Perry haven't officially announced a marriage, but many fans of the writer and director believe the couple tied the knot already after Broadway star Stephanie Mills shared a photo with the pair on June 2017 and referred to Gelila as Perry's "lovely wife."
The couple prefers to keep their private life away from the cameras as they focus on their projects. While Terry is known for the different series and plays that have put African American actors on the map, Bekele is trying to do the same for her people.
She released her first book "Guzo," which translates to "journey," last year. The photography book follows the lives of six different tribes from Ethiopia, and Gelila explained on a video on her website, that connecting with her roots and getting to understand a bit more about those people's lives was essential to understand her origins better.
Bekele also explained that the profits from the book go directly to girls' education in the country and to help with water supply, as there are many small cities where girls have to walk from four to five hours just to get a bit of clean water.
No doubt about why Perry confessed to People magazine last year that "There's no other person on this planet that I would want to be involved with or have a child with because she's amazing."
Please fill in your e-mail so we can share with you our top stories!