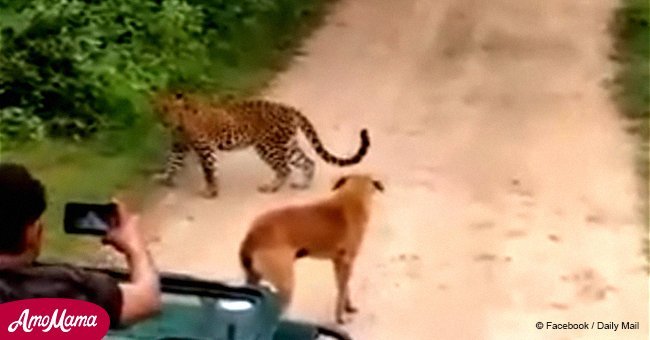 Valiant dog stands up to a leopard that attacks him
A stray dog managed to chase away a two-year-old leopard back into the bushes during a shocking confrontation at Jhalana Forest Reserve near Jaipur, India.
A video uploaded to Facebook by Daily Mail showed the leopard stalking the stray dog for a while from the bushes. The dog is sleeping in the middle of a path and a few tourists can be seen observing the scene from the sides, recording the incident with their mobile cameras.
After long moments of patience, the leopard pounces on the dog, coming right out of the bushes and going for the poor animal's neck.
But the dog quickly leaps and launched a counterattack on the young leopard. It started barking continuously at the big cat and baffled the creature for a while.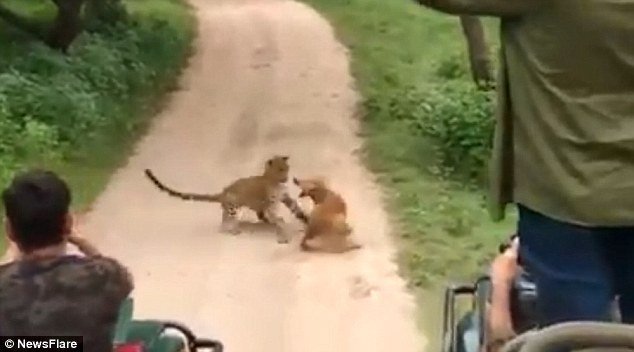 Source: Facebook/Daily Mail
Follow us on Twitter to learn more.
The female leopard, whom the forest officials named, 'Juliet,' seemed to be in confusion as to who had the upper hand in the attack.
After the dog's courageous attempt to push away the leopard, Juliet seems to be just staring at it for a long time.
Daily Mail quoted a forest official as saying, "Juliet left quietly as there were visitors in jeeps behind the dog. If not, it is unlikely that the dog would have survived the encounter."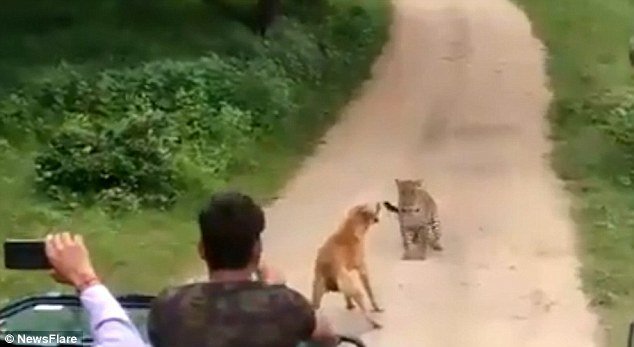 Source: Facebook/Daily Mail
Authorities opined that the leopard had the upper hand in the fight. However, it was the presence of humans that gave the dog more confidence and courage.
The leopard hesitated to attack the stray dog and had to analyze if killing it was even worth because of the tourists behind the dog.
Had there been no humans recording the incident, the dog had a minimal chance of survival.
Incidents of an encounter between wildlife and the humans living in the settlement near forests and national parks are fairly common. Sometimes such encounters also lead to dangerous consequences.
In a similar story, a leopard attack claimed the life of a three-year-old Ugandan boy, whom it snatched away from its home in Southern Uganda.
Please fill in your e-mail so we can share with you our top stories!