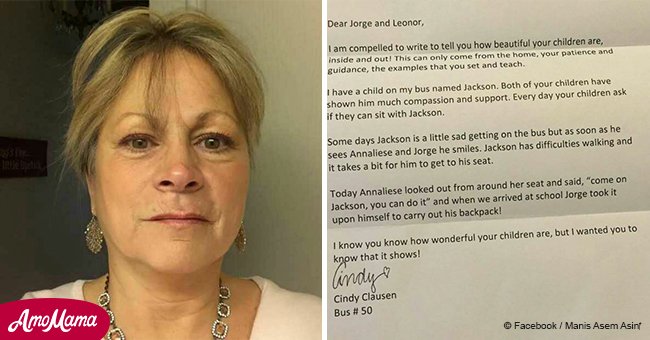 Bus driver sees kids' treatment of boy with special needs and writes soulful note to parents
Cindy Clausen, a school bus driver, was shocked to see that two children were very considerate of Jackson, a boy with special needs, on her bus.
The letter written by Clausen to the children's parents was shared on Facebook by Love What Matters on November 13, 2016.
It is a heartfelt one, where the bus driver shares her thoughts on the siblings, who made an extra effort day to make Jackson as comfortable as possible.
Read more on our Twitter account @amomama_usa.
Annaliese and Jorge, the brother and sister duo, instead of bullying or making fun of a specially-abled child on the bus, became good friends with him and made him feel part of the group.
The siblings asked the boy if they could sit with him, offered to help him on and off the bus and asked him about his day. They were doing their best to make to him feel included.
The child's behavior made such a good impression that Clausen decided to write a letter to Annaliese and Jorge's parents.
The awed bus driver wanted the siblings' parents to know that they were raised right. Having children of her, she was impressed with how kind-hearted both the children were.
It was evident to Clausen that Annaliese and Jorge's parents were showing them the right way to treat people and to treat everyone equally.
Instead of thinking about it and waiting for days, the bus driver decided that she had to compliment parents of such well brought up children.
"I am compelled to write to tell you how beautiful your children are, inside and out! This can only come from the home, your patience and guidance, the examples that you set and teach," she wrote in the note.
She wrote the note and handed it over to the children and asked them to pass it on their parents.
Please fill in your e-mail so we can share with you our top stories!