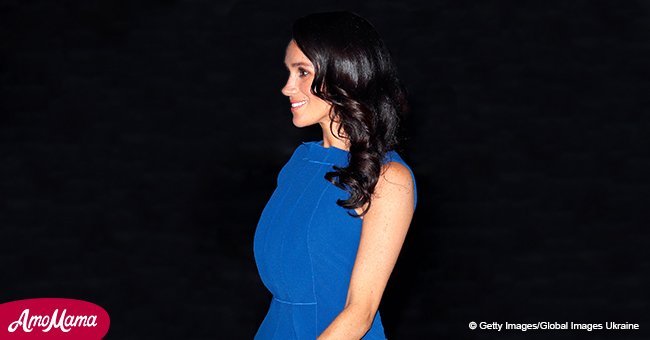 The Sun: Meghan Markle's mom reportedly 'taking nannying classes' amid assumed royal pregnancy

A royal source claimed that Doria Regland is receiving formal instructions on how to care for a newborn. Coupled with Meghan Markle's recent attire, the public thinks the Duchess is expecting.
Markle's mom is reportedly taking lessons at LA's Cradle Company in Pasadena. It covers breastfeeding, CPR, first aid, and basic baby care. The 62-year-old may also be moving to the UK to be nearer her daughter.
The source told Daily Star that "Doria's been taking newborn specialist classes with the Cradle Company."
Follow us on Twitter for more @amomama_usa.
Via the Sun, the source also said that "Meghan wants to avoid hiring staff if possible once her first child arrives." She continued, "The thought of having her mum move in with them and take on the role of baby nurse is the best possible solution to that."
So travel plans might be in order for the mother of the new Duchess.
The royal source gave further details on the lessons.
"Two of the teachers, Brandi and Hanna, are training Doria at her home half an hour away to avoid attracting unwanted attention."
37-year-old Meghan already gained attention, however, when she wore a blue loose-fitting dress last Thursday. The dress featured ruffles above the midsection area, leading fans to become highly suspicious.
A new baby would be welcome, but may not be in line with the royal couple's initial plans right after marriage. The source explained:
"They wanted to hit the ground running after their marriage to focus on their charitable interests and Meghan is really looking forward to representing Her Majesty on her first major Commonwealth tour to 'Australia, Fiji, Tonga, and New Zealand."
She added that Markle is "busily preparing and doesn't want to make a wrong step."
Markle is apparently really "taking the new job part of her role seriously having meetings with palace staff and learning about the Commonwealth so she can support Harry in his new role as Commonwealth Youth Ambassador."
But if Markle really has a new baby on the way, she will at least have the full support of her mother for the challenging task of being a new mom.
Mom Doria "already specializes in prenatal yoga," says the source. "The course also covers sleep training for later on, weaning and helping the new mother with her recovery."
She said that for Doria, being a nanny is something she "always wanted to do anyway."
Contrary to the growing suspicions that Markle is pregnant, HollywoodLife reported that a source close to her said that "Meghan isn't pregnant, and she and Harry really don't pay much attention to all the rumors as they accept that it's just part and parcel of being who they are, especially given their status as newlyweds."
"Meghan knows that everything she wears right now is going to be analyzed for pregnancy 'signs' and 'clues' as is the way she styles her hair and the way she acts in public—she already has her every move scrutinized though so she's starting to get used to that whole side of things. Meghan and Harry would really love to have a couple of children in total, a small, loving and close family would be the ideal scenario for them both, and they hope their dream will come true someday soon."
So Doria may not be putting her new nanny skills to use just yet. But she will likely have her time in the future.
Meanwhile, Markle's tour is set to begin with the Invictus Games in Sydney on October 20.
Please fill in your e-mail so we can share with you our top stories!