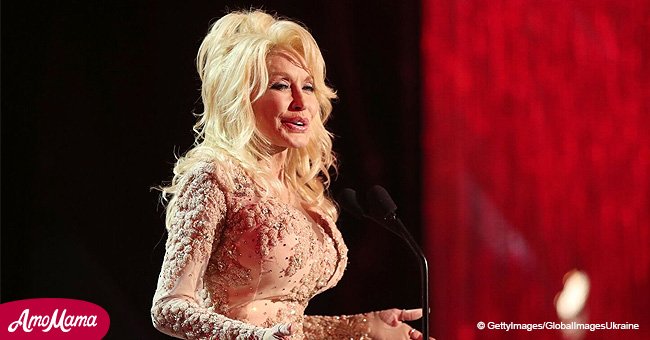 Dolly Parton shuts reporter up for asking a question that was off-limits

Dolly Parton shut down a reporter's attempt to stir the waters regarding Donald Trump when he asked her about his misogynistic words.
Parton, one of the most famous voices and faces in country music history, didn't appreciate being asked a political question and was very quick to offer her opinion.
The moment quickly went viral on social media, especially on Youtube and Twitter, were fans of the singer were able to enjoy her words of wisdom when it came to the touchy subject.
It all started when the country legend reunited with Jane Fonda and Lily Tomlin at the 2017 Emmy Awards, where the trio received a standing ovation. Follow us on our Twitter account @amomama_usa to learn more.
COMPLETELY UNEXPECTED
It was supposed to be a fun and enjoyable moment given the fact that the stars from the comedy "9 to 5" were sharing the same stage ever since the end of the show.
ONLINE CRITICS
But it all went downhill when they used their entrance to make a dig at President Trump, calling him a 'sexist, egotistical, lying, hypocritical bigot.'
Parton refrained from getting into political territory and appeared to be shocked by her co-stars' outburst. Nevertheless, she tried to lighten the mood by making a joke about herself.
Even though she didn't have anything to do with what Tomlin and Fonda did on stage, the singer still suffered some backlash from fans. A month later, she explained to People Magazine that she was an entertainer, not a politician, and that she was only trying to break the ice.
ENOUGH IS ENOUGH
During an interview on "Nightline," Parton finally had enough when she was asked to comment on the political situation and said that she didn't do politics because she didn't want to offend anyone.
"I don't want to offend anybody. And besides, I don't get into that. And so, if you are deciding you may want to ask me something more serious, don't. Because I am not going to answer it."
Dolly Parton, Nightline, March, 2018
SECOND WALK OF FAME STAR
Parton will soon become the first woman in the 21st century to be awarded two stars on the Hollywood Walk of Fame. The country legend will be granted the honor alongside Emmylou Harris and Linda Ronstadt, both from the album "Trio."
Please fill in your e-mail so we can share with you our top stories!