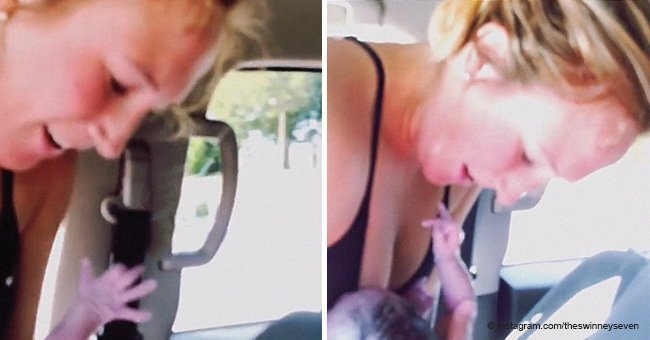 Woman gives birth in moving car while husband films and children watch in shock

The 25-year-old mother-of-seven, Alexis Swinney, delivered her seventh baby in a moving vehicle while on the way to the hospital.
Her husband, Dominique Swinney, recorded the entire incident while driving. They also posted the video on Instagram four days ago.
Read more on our Twitter page, @amomama_usa. In the caption, Alexis explains that there was "something beyond special about getting to deliver" her own baby.
She added: "I honestly think that God allowed me to deliver safely in the car, instead of making it to the hospital."
While giving birth, her husband asks if she can't "wait like two minutes," but is then overcome with emotion when he sees the baby.
"Oh, she had the baby,' her husband says. 'Oh my gosh. Oh my goodness, we just delivered a baby in the car. Oh my God."
Alexis said the "pain was there" but the joy and peace after giving birth outweighed the pain and was more rewarding than she could have imagined.
She feels as though God knew her desire of giving birth "without interruption" and knew that a hospital would have robbed her of that special moment.
"No doctors or nurses, no lights, or busy people, no one interrupting a moment that should be the most special moments for families as they bring life into the world."
Many people have since expressed their shock when they hear that she didn't make it to the hospital, but Alexis has no regrets.
She "experienced something unrivaled" and witnessing her "body take over and a baby being born into [her] hands" filled her with joy and humility.
The video can be viewed on her Instagram account.
Alexis also said that having her husband and children around her in that moment was exactly how she wanted it.
The family has since shared a family photo of all seven members on Instagram, along with the scripture 1 Thessalonians 5:16-18.
Earlier this year, a 28-year-old mother of twins gave birth to a set of triplets. Her family has a history of multiples birth, but the mother-of-six never thought it would happen to her.
The doctors explained that she was a "hyperovulator," and ovulates more than one egg at the same time. The family had always joked about having a big family and are determined to make it work.
Please fill in your e-mail so we can share with you our top stories!