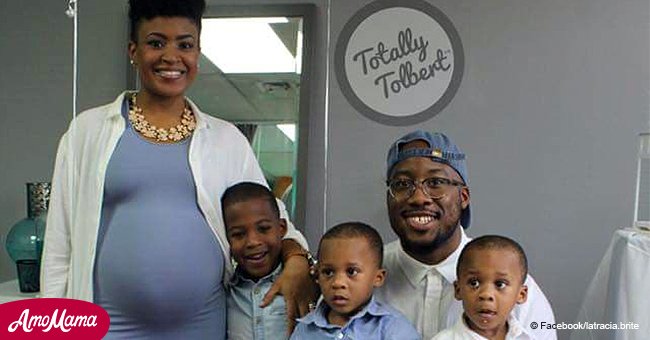 Mother of twins gave birth to triplets
Having three children might be considered by many couples as a big family. Robert and Nia Tolbert, of Waldorf, Maryland, took it to the next level.
According to Wusa9, they were not planning to have so many members in their family, though. They first met 11 years ago and fell in love almost instantly. In 2011, they welcomed to the world their first son, Shai.
After getting married in August 2014, the couple learned that they were expecting again. Even though they have a history of multiples in their family, they never imagined Nia would be pregnant with twins.
Robert, who works as a project manager with the federal government, confessed that they used to joke about having a big family but that they never thought it could happen to them.
In late 2017, Nia learned that she was pregnant again and visited the doctor to check how many babies she was expecting. When the nurse started the ultrasound, they asked the 28-year-old mother if she had had multiples in the past.
As soon as they said that, Nia knew that she was carrying more than one baby. After the nurse confirmed she was expecting twins, Nia went to the bathroom. When she went back, the nurse told her that she was actually expecting triplets.
Shocked, Nia asked the nurse to check again so they could make sure it's not four. Dr. Rami Tabbarah, an OBGYN at Inova Women's Hospital, admitted that having twins and then triplets naturally was extremely rare.
Tabbarah added that Nia was an hyperovulator, which means that more than one egg ovulates at the same time, making it more likely for her to have multiples naturally.
Even though they were not sure how they'd care 6 children, Nia admitted that they had to be grateful as there are people who cannot have children. She surprised Robert giving him a gift bag with three onesies and the sonogram.
Later, they learned the genders of the babies: three girls. It means that the house would be balanced.
Please fill in your e-mail so we can share with you our top stories!