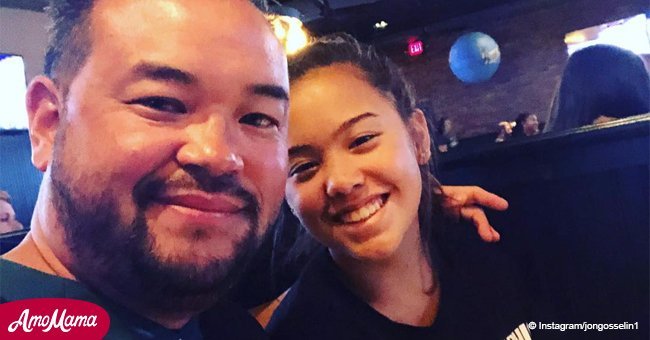 Hannah Gosselin has incredible father-daughter time with Jon, according to their fans
A picture tells a thousand words and when it's a picture of joy and happiness it brings smiles to those who see it. This was the scenario that was created when Jon posted a picture of him with his daughter Hannah on Instagram.
When Instagram fans saw Jon's picture with Hannah, one thing was apparent and it was that they were both happy together. Their smiles were radiant. Jon's Instagram followers quickly noticed how happy the teenager looked and how happy she was to be spending time with her father. More so they were quite eager to leave their comments on the television personality's Instagram account.
If you are a Gosselin fan surely you are aware of all the recent drama and the all the news coming out of the Gosselin camp!
In the face of rumors that the fJon and Kate have agreed on a new custody agreement which has Hannah living with him, the reality TV star shared a photo of himself and his daughter, cheering on the Philadelphia Eagles.
While one comment said, "Thank goodness she lives with you!" another wrote, "Anybody would look less stressed after leaving a house where you're constantly under ones thumb and berated. You both look great!"
However the comments did not end there and those commenting were not shy with their words.
Another opted to say, "Hannah looks so happy and less stressed so glad she's with you," while another wrote, "I'm so happy you finally get to have a good relationship with her! Every girl needs their daddy!!"
With the custody situation surrounding the former "Jon and Kate Plus 8" couple still unclear, Jon posted on Instagram that Hannah lives with him.
In spite of the legal situation it certainly does appear that Hannah has moved in with Jon . This was indicated in a back to school message about the teen late last month that suggests a big move on her part and how happy Jon is to be a part of her life.
John and Kate are the parents of Cara and Madelyn (twins) and Alexis, Hannah, Leah, Joel, Aaden and Collin (sextuplets).
One thing's for certain and it is that Jon's fans will be eagerly waiting more news on the latest updates regarding Jon's life.
Please fill in your e-mail so we can share with you our top stories!