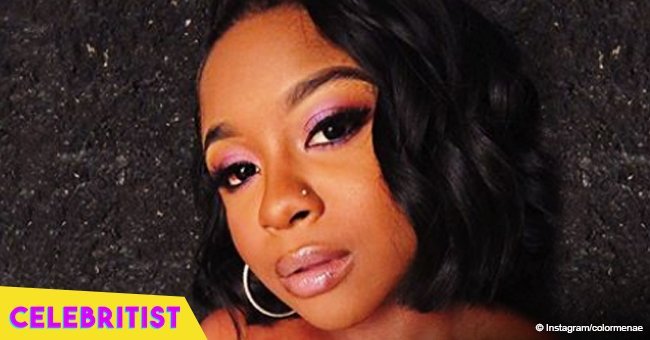 Reginae Carter shares photo flaunting her tattoo and beach body in skimpy two-piece swimsuit
Reginae Carter is having some fun under the sun while flaunting her slimmer body and sharing quality time with her mother, Toya Wright, and her baby sister, Reign Beaux.
The only daughter of Toya and high school sweetheart, rapper Lil Wayne, will be turning 20 in the next months, and she's been working out hard to flaunt a slimmer and curvaceous body on her big special day.
Reginae is not shy when it comes to showing some skin on social media, and her recent Instagram pics are the proof of that. In the shots, Carter is donning a two-piece Fendi printed swimsuit that put her toned stomach and rib tattoo on display while showing some cleavage. Sitting and laying down on a pool chair, Reginae made fans drool over her best attributes.
"I can give you the recipe, but the sauce won't taste the same," she captioned one of the pics, showing off her sassy side one more time. Fans immediately took to her comment section to share their thoughts on the pics.
One user wrote "Real body matters. Love that you're natural and not Being a follower!! Go Nae," another added, "You look cute.....Anybody who says otherwise is a hater," and a third one agreed "Nothing But Flawless & Supernatural Beauty At It's Best Queen....Real Talk!!!!!"
In another shot, Carter posed with her mother and her adorable little sister, Reign, who's already seven-months-old. The trio made a beautiful family portrait, with little Reign smiling to the camera wearing a striped white and pink swimsuit that is the smaller version of the one Toya was rocking.
Even though Reginae is continually working out to stay in form, the 19-year-old sparked some controversy on social media a few months ago after she started to promote appetite suppressing lollipops.
Fans criticized Carter's decision to promote such an unhealthy way to lose weight, and some even called the product a scam, claiming that there's no way a lollipop can make you lose some pounds. However, it seems like Reginae can't even win when it comes to her actions.
Earlier this week, the reality star shared a video showing off her boxing skills at the gym, and fans were not that impressed with her moves. They started to criticize Reginae's technique and even called her out about learning how to defend herself without realizing boxing is just part of her fitness routine.
Reginae is known for being outspoken when it comes to her haters, and she has stated in several occasions that people need to stat in their line and leave her and her family alone.
Please fill in your e-mail so we can share with you our top stories!