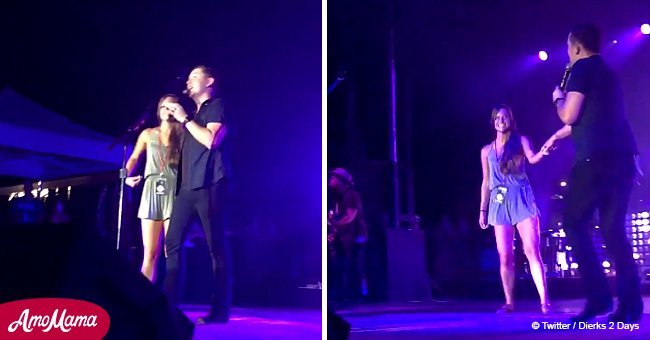 Scotty McCreery shares an emotional dance with new wife, kisses her onstage
Country Star Scott McCreery announced his new wife in front of a live audience during one of his spectacular performances.
A fan of McCreery took to Twitter to share a video from his performance, where he announces his wife to the word with a romantic song and plants a sweet kiss on her lips.
According to Country Music Family, McCreery married his high school sweetheart, Gabi Dugal, after six years of dating.
Their wedding took place in the Blue Ridge Mountains in North Carolina amid the serene natural beauty. The gorgeous event was recorded and even used as the theme of his music video for "This Is It."
Follow us on Twitter to learn more.
Following the video, McCreery's gesture of bringing his wife up on stage and announcing her to the world is another romantic gesture of his commitment toward her.
The brief clip uploaded by one of the fans attending the event shows McCreery guiding his wife onto the stage. There he serenades her with his soulful voice amid the roars and cheers of the audience.
Dugal is clearly blushing with all the attention she receives on the stage. However, she did manage to show off some sweet dance moves to the tune of McCreery's beautiful song.
In between the song, McCreery pulled her to his side and they looked at one another with loving eyes, making the fans go crazy about the two of them. In the end, he kissed his wife as a show of love he had for her.
He then told the crowd, "Y'all say hey to my wife, I couldn't be here without her." She shyly waved at the audience, with a smile, and disappeared behind the stage.
The couple got married back on June 15 earlier this year during a ceremony held at Twickenham House & Hall in North Carolina. Several photographs that came out following their big showed that the stars got tied the knot in a fairytale wedding.
Please fill in your e-mail so we can share with you our top stories!