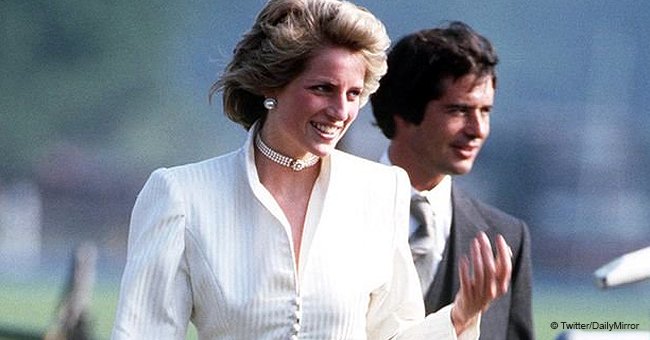 Princess Diana's former lover dies at his home in France
Oliver Hoare was an art dealer who had a relationship with the late Princess Diana in the early nineties. He passed away at the age of 73.
As reported by Daily Mail, Hoare died of cancer earlier today at this home in France. Read more on our Twitter account, @amomama_usa.
He is survived by his oil heiress wife, Diane de Waldner, and their three children – Tristan Sebastian, Damian Omar, and Olivia Talitha.
Hoare, who was 16 years older than Diana, was born in London and attended the prestigious Eton College during the late fifties and early sixties.
Diana and Hoare were mutual friends with Lady Elsa Bowker. The late princess viewed Lady Bowker as a confidante and disclosed details about their relationship.
Diana told Lady Bowker that she was envisioning a future with Hoare, and would daydream about living with him in Italy. Hoare reportedly broke off his relationship with Diana at the behest of his wife.
Hoare had no intention of losing his oil heiress wife and claimed that he received calls from Diana at his home, long after he stopped seeing her.
His wife urged him to contact the authorities, and the calls were traced to Diana's private landline number. However, Hoare requested that the investigation be halted.
Three years later in her world-famous interview with Martin Bashir, Diana admitted to calling Hoare at home but said: "certainly not in an obsessive manner, no."
Even though Hoare never admitted publicly to having an affair with the late princess, Diana's former bodyguard claimed to have seen him in the hallways of Kensington Palace.
Diana reportedly snuck Hoare into Kensington Palace and he was once found half-naked hiding in the garden after a fire alarm went off in the middle of the night, according to Daily Mail.
The late princess was linked to several men during the nineties. Two of them, James Gibley and Will Carling, never openly admitted to being in a relationship with the princess.
James Hewitt had an affair with Diana for five years and revealed intimate details about their relationship to Anna Pasternak for her book "Princess of Love."
A butler claimed that Diana had a tryst with Bryan Adams too. She was on vacation with Dodi Fayed at the time of her death, and he also lost his life in that fatal car crash back in 1997.
This year marked the 21st anniversary of Diana's death, and her sons have chosen to commemorate their mother in private as opposed to hosting a public event.
Please fill in your e-mail so we can share with you our top stories!