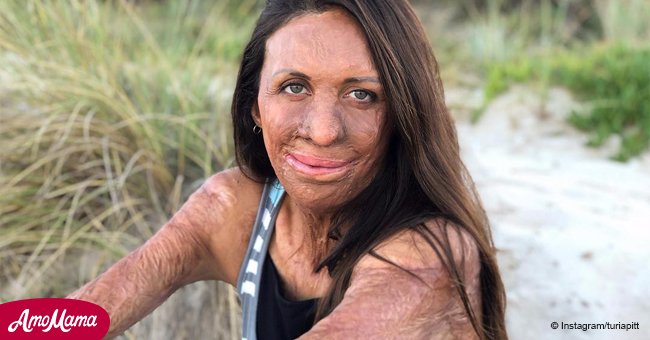 'I am different, not disfigured': the inspiring story of Turia Pitt

Turia Pitt is a vibrant speaker, athlete and humanitarian whose life changed seven years ago during an ultramarathon.
Pitt, a mining engineer and model, was competing in the race in Western Australia back in September 2011 when she became trapped in a bushfire.
She was in a medically-induced coma for a month after the incident and had severe burns to more than 60 percent of her body. Today, Pitt is a force to be reckoned with and has mentored thousands of people through her Turia's Champions Initiative.
THE ROAD TO RECOVERY
Pitt was barely alive when first responders airlifted her to safety. Her doctor said in an interview that he never had a patient "with such a deep burn survive, ever."
She spent six months in the hospital and wore a face mask for two years.
Pitt also lost seven fingers and her extended recovery period included more than 200 operations and reconstructive surgeries.
Her recovery had been slow, but Pitt was determined to rebuild her life and said she decided early on to remain positive.
WORDS HAVE POWER
She refuses to refer to herself as a "burns victim", or as "disfigured." Pitt prefers the phrases "burns survivor" and "different." She explained:
"The word "disfigured" makes me feel limited, so I never use it. And if other people use that word, I gently remind them that no, I'm not disfigured, I just look a bit different."
She wrote in a blog post on her website that our brains will create what we think and words with negative connotations only weigh a person down.
A LOVING FAMILY
Pitt is engaged to her high school sweetheart, Michael Hoskin, who never left her side and supported her through everything.
Hoskin resigned from his job as a Police officer so that he could be there for Pitt during her recovery. They have since rebuilt their lives, and the couple have been living together since 2015.
Pitt is also grateful for the support she received from her parents who taught her that "anything is possible with willpower."
HER GREATEST ACHIEVEMENT
Today, Pitt serves others as an ambassador for Interplast Australia and Newland while also speaking at events, fundraising campaigns and raising awareness.
She penned two books, "Everything To Live For," and "Unmasked," which shares her story and inspires others to overcome their obstacles.
However, her greatest achievement is her son, Hakavai. The couple welcomed him in 2017, and she enjoys spending time with him and focusing "on being a great mum."
"I'm grateful for so many things in my life, but Hakavai and Michael are top of the list! I think gratitude is so important," she said.
A strong support system like Pitt's is vital on the journey to recovery and research has proven that the benefits reduce depression and anxiety while providing higher levels of well-being.
A teenager from Illinois, 15-year-old Korryn Bochner learned that back in May when she had to cancel her prom plans.
She had third-degree burns from a fire-pit explosion in April, and her friends brought the prom experience to her. Read the full account here.
Please fill in your e-mail so we can share with you our top stories!