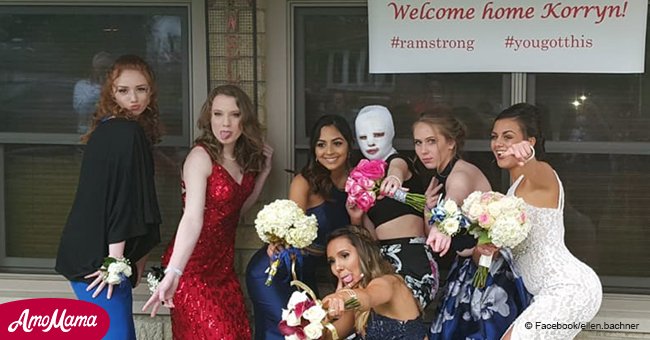 Friends gave 3rd degree burn victim who could not attend prom an emotional surprise
15-year-old Korryn Bachner, who canceled her prom plans, was given a heart-touching surprise by her friends.
CBS News reported that the girl's date for the evening and her friends brought the prom to her on May 12, 2018.
Bachner, who hails from Lombard, Illinois, was involved in a terrible accident in the first week of May. She suffered third-degree burns from the accident and will undergo surgery and treatment in the future.
The accident forced her to cancel her plans for her high school prom.
Her friends knew it was a difficult time for Bachner. On the day of her prom, her friends and her date dropped in to give her a surprise.
Her classmates from Glendale East High School turned up at her door before heading to the venue.
The teenager's head was wrapped in bandages but that did not stop the group from having fun.
Bachner was dressed in her prom dress and was extremely pleased to have her friends at her home. According to the girl's mother, Ellen Starzyk Bachner, the group clicked photos and made the most of the situation.
She even posed with a bouquet of pink flowers brought by her date for the evening. The flowers were a perfectly matched her dress.
The accident has resulted in huge medical bills for the family. However, the community has come forward to help them cover the expenses.
A
GoFundMe
page was started and the campaign has raised more than $81,000 as of May 30, while the teen continues to fight with support from her classmates.
The incident occurred on April 28, 2018, when Bochner and a group of friends were sitting around a backyard fire pit, in Glendale Heights.
Of the estimated 25 teenagers at the party, an individual is said to have poured gasoline from a five-gallon can on the flames which caused the explosion. 12 people sustained injuries from the blast, including Bachner.
Immediately after the accident, seven were taken to Loyola University Medical Center in Maywood, while five were taken to Adventist GlenOaks Hospital in Glendale Heights.
Officials say that about 5,000 Americans suffer from burns caused by barbecue grills and fire pits.
Please fill in your e-mail so we can share with you our top stories!