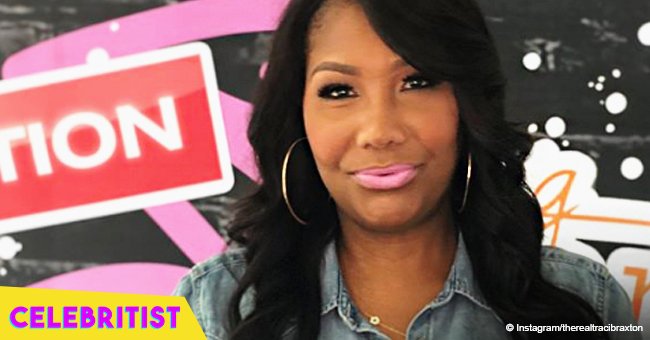 Traci Braxton melts hearts with picture of her adorable baby grandson

Traci Braxton's family has expanded ever since her son Kevin Jr. and girlfriend Olivia gave birth to a baby boy. The proud grandma shared a photo of her adorable grandson just in time for grandparent's day, and it's clear just how much she loves him.
Now that the "Braxton Family Values" star is a grandmother, she's decided that she wants to be called "Duchess", not grandma. Speaking to The Grio, she reveals that she wants to be called the term because she considers herself royalty.
"My sisters and I…when we were younger, we said if we ever have kids, and our kids have kids, our names would be duchess. That's royalty, that's what they call the Queens when they have grandkids. So, I'm royalty."
Ever since the birth of her grandson, she has been sharing adorable moments between the both of them. Right after Olivia gave birth, Traci was able to embrace her grandson right away, saying it was a moment that she would never forget. She said that it was also that moment that reminded her how important family is.
"It's grandparents day and I can tell you... I love this lil boy right here!!!!! Never thought I could love like this!!!! Love you lil baby Kevin!!!! Aka Jr.Jr."
However, it seems to be much harder for Traci to live by what she said, especially now that she and her sisters are not on good terms. The Braxton sisters have always been tight-knit, but recent tension has strained the relationship between Traci and her two sisters, Toni and Tamar.
Things eventually started getting worse when Traci announced that Phaedra Parks was set to join their reality TV show after the other two sisters decided to boycott it after having some issues with the production crew.
The "Real Housewives of Atlanta" star, Phaedra Parks, was recently shot to join the reality TV show, where she accompanied Traci on a trip to South Dakota and Wyoming. According to Traci, those trips were actually a part of her duties as ambassador for Black Cowboy Whiskey, and since she obviously couldn't bring Toni and Tamar, she decided to bring a friend.
However, this did not sit well with her sisters, who proceeded to throw shade at Parks, saying she is "NOT a Braxton". Traci and her sisters have been fighting ever since it was reported that she decided to show up to film their reality TV show despite the family's decision to boycott the series due to them not getting the pay negotiations they wanted.
Please fill in your e-mail so we can share with you our top stories!