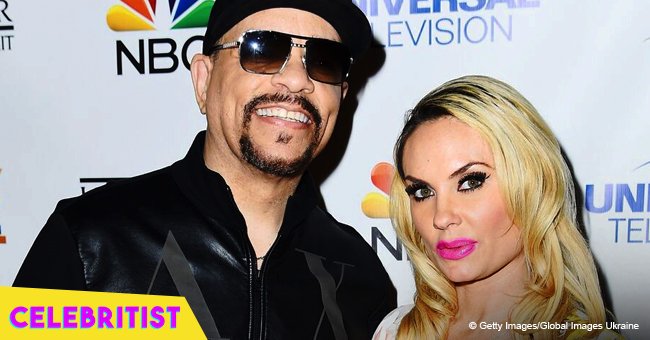 Ice-T's wife Coco and little daughter pose in matching polka-dot dresses in recent photos
Coco Austin is stealing hearts in a matching outfit with her adorable daughter, Chanel, in recent Instagram pics. The mother-daughter duo has become one of the favorites on social media, despite the harsh critics Coco gets for her parenting style.
Ice-T's wife and daughter are the epitomai of adorable in new pics from Coco's friend's wedding. The model and reality star took to Instagram to upload a series of pics from the lovely ceremony of her friend of 27 years, and as usual, little Chanel stole the spotlight.
Coco and Chanel were matching in half black, half white with polka-dots dresses and black shoes. They accessorized the outfit with cute matching bow headbands while making fun poses in front of the camera.
"Weddings are also fun because it gives you a chance to dress up, have fun and be silly," Austin captioned the pictures.
Her fans immediately took over her comment section to share their thoughts on the pictures. One user wrote "Omg you both look amazing. Lil ms Chanel is soo adorable," another added, "OMG! Prob one of my FAV matching outfits yet!" and a third one agreed "You guys are so cute like mother like daughter."
However, Austin's comment section is not always filled with kind words. Trolls and haters all over the internet love to hate on the model and her motherhood journey. Just a few months ago, she shared a pic nursing her 2-year-old and revealing that she's still breastfeeding, which caused people to attack her, stating Chanel is too old and should stop getting her mom's milk.
Coco remains unbothered, and she's proud of the bond that nursing has created between her and her adorable tot. "Breastfeeding, of course, you know, when they're young, they need you for nutrition," Coco said recently to E! News. "It's more of a blankie-type thing. Instead of her having a blanket, she has the boob."
She also addressed the people that don't agree with her and stated that she's aware there's going to be a point when she will have to stop breastfeeding for good.
"Ninety-five percent of people love the fact that I still do it. But then there's that five percent that like, want to attack. We'll get to that point where we'll say, 'Hey, OK, it's done.'"
Little Chanel is already a star on the making. She loves to dress up and to pose for the camera, and she even took the stage with her father a few months ago while touring around Europe with his heavy metal band, Body Count.
And precisely because they're always traveling, Austin confessed that she's not ready to have another child yet.
"I think about this over and over because I love being a mom...but the way we travel is so extremely hard," she said. "Honestly, I think our life fits one child only."
Please fill in your e-mail so we can share with you our top stories!