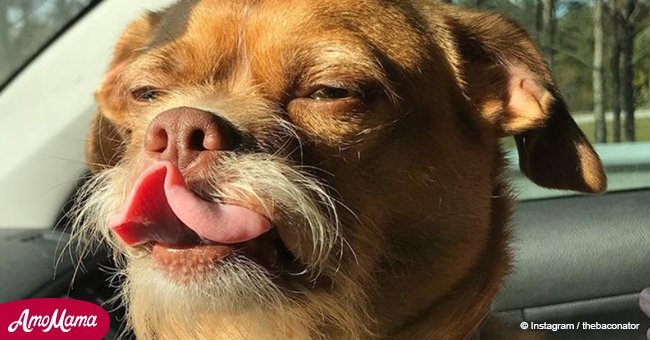 Dog named Bacon goes viral because of his unusual facial expression

Most pet dogs have less than a handful of distinct expressions that their owners can discern; happy, sad, ashamed, and angry. This dog, however, has extended his range and the internet loves it.
The dog lives in Tampa, Florida with his owner Meg. He is a Pekingese/ dachshund/ Chihuahua/ Shih-Tzu mix. Meg adopted Bacon from the Guardian Angel Dog Rescue.
"We went to go do an in-person meeting with the rescue... and fell in love as he waddled down the driveway," she told PEOPLE.
Follow us on Twitter for more @amomama_usa.
The expressive dog was "found living on the streets by animal control, and Guardian Angel saved him from euthanasia. He was actually adopted out twice, and returned, before we got our hands on him. Third time was the charm."
The shelter named the dog but did not train him to display the many expressions he often wears. Bacon also had some behavioral issues initially.
Meg had him professionally trained so as to make herself and the dog happier. She explained:
"We worked with Sam Ivy Dog Training out of Tampa and it was literally night and day. As our dog trainer said, you don't like everyone you meet, so why should your dog (which I can relate to on a serious level). Now he listens and can perform all the basic commands plus dancing, high-fiving, shaking and (my personal favorite) sitting like a meerkat. As we worked on his training, his real personality was unleashed. He is a goofy, treat-loving dog who loves to snuggle and go on walks."
Bacon's self-taught expressions have led the public to make several comparisons to some celebrities like "Samuel L. Jackson, William H. Macy, Mark Hamill and Peter Dinklage."
But celebrities status is now what the duo are looking for.
"I would say the best part is how much he makes people laugh. To think a little abandoned meanie like him has made so many people smile is amazing."
Ultimately though it's about making Bacon happy.
"I love when his ears are all the way forward and he has a huge smile."
While Bacon is expressive facially, other dogs have a knack for musical talents.
One dog named Elmo took to playing the piano and singing one night in a video back in August that has now gone viral.
Elmo stood on his hind legs in a video and his forelegs played the piano. He then howled along to his favorite songs.
His consistency in hitting the keys as she howls without letup really made it appear that Elmo knew what he was trying to do.
Please fill in your e-mail so we can share with you our top stories!